Volume Force Pro for TradingView
$199.00
📌 New Volume Force Pro for Tradingview indicator spots hidden volume surges and PREDICTS market reversals — being tipped off early gives you the clear advantage…
📌 Arrows stay FIXED with the clear ENTRY points before the start of new trends — yes, you'll place trades with rock-solid confidence…
📌 INSTANT alerts with suggested ENTRY, TAKE PROFIT & STOP LOSS makes trading simple a process even for new traders — get in and STAY in until the trend is completely exhausted…
Guesswork Removed COMPLETELY!
Your dream as a trader is to be profitable within minutes or hours of placing a trade — usually as a new trend starts.
Unfortunately, most traders never get the PERFECT entry right.
With a wrong entry, trades sometimes meander for hours before hitting the profit target… if it doesn't hit the stop loss first.
Not with Volume Force Pro for Tradingview indicator…
It uses an algorithm that's based on Volume, High, Low and Close prices of every candle to calculate Volume Force.
Once that Volume Force is calculated, it then plots a chart as histogram based on the subtraction of 34-period EMA and 54-period EMA of the volume force along with a "signal line" which is a 13-period EMA of the histogram chart. Based on the crossing between the signal line and the zero line, it predicts the trend of the price:
If it all sounds a little too technical, here's simply what I would do once I get my hot little hands on the amazing Volume Force Pro indicator:
When the red line crosses UP past zero on the signal line & the BLUE arrow appears, I'd BUY. When it crosses DOWN past ZERO on the signal line & the RED arrow appears, I'd SELL.
Does THAT sound hard?
Really, that's the secret to successful trades like this: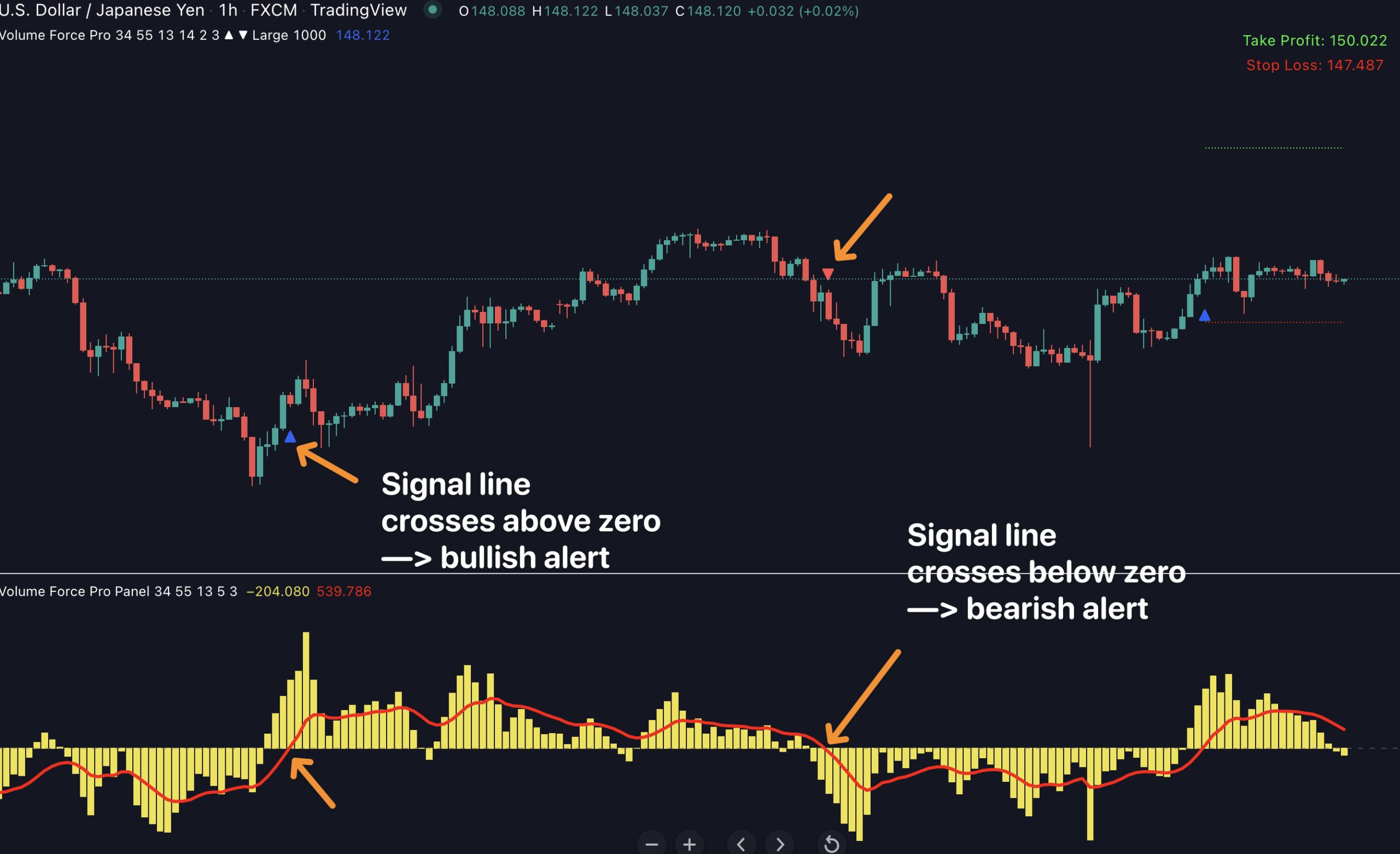 Here's why Volume Force Pro Is Superior In Performance & Efficiency
Do you know what any trader who's been miserably unsuccessful in the past will tell you?
DON'T TRADE WITH TRADITIONAL INDICATORS!
Why?
Because they lie.
They lag.
And they are NEVER definite.
Even after so-called analysis of determining it is in the 'SELL' zone based on traditional criteria, the markets shoot UP. The same thing happens vice versa when it supposedly says you are to BUY.
Forget those.
With Volume Force Pro everything changes…
It registers the surge in the volume of orders in REAL TIME in tandem with price. With this rush of orders, the algorithm determines in the background that an impending change in trend is coming… and… once it does… it prints an arrow at the EARLIEST prompting you to get in before the first stages of that trend.
Introducing…
VOLUME FORCE PRO for Tradingview
If you are trader who is addicted to profiting off trends from the earliest start to the very last pip, you will definitely LOVE it.
And if you're new to trading?
This is one of THE best indicators in our TV Champ membership (which you will discover later) that could make you profitable, VERY quickly.
You will get precise ENTRY, STOP LOSS and TAKE PROFIT by simply glancing at the upper right hand corner of your platform.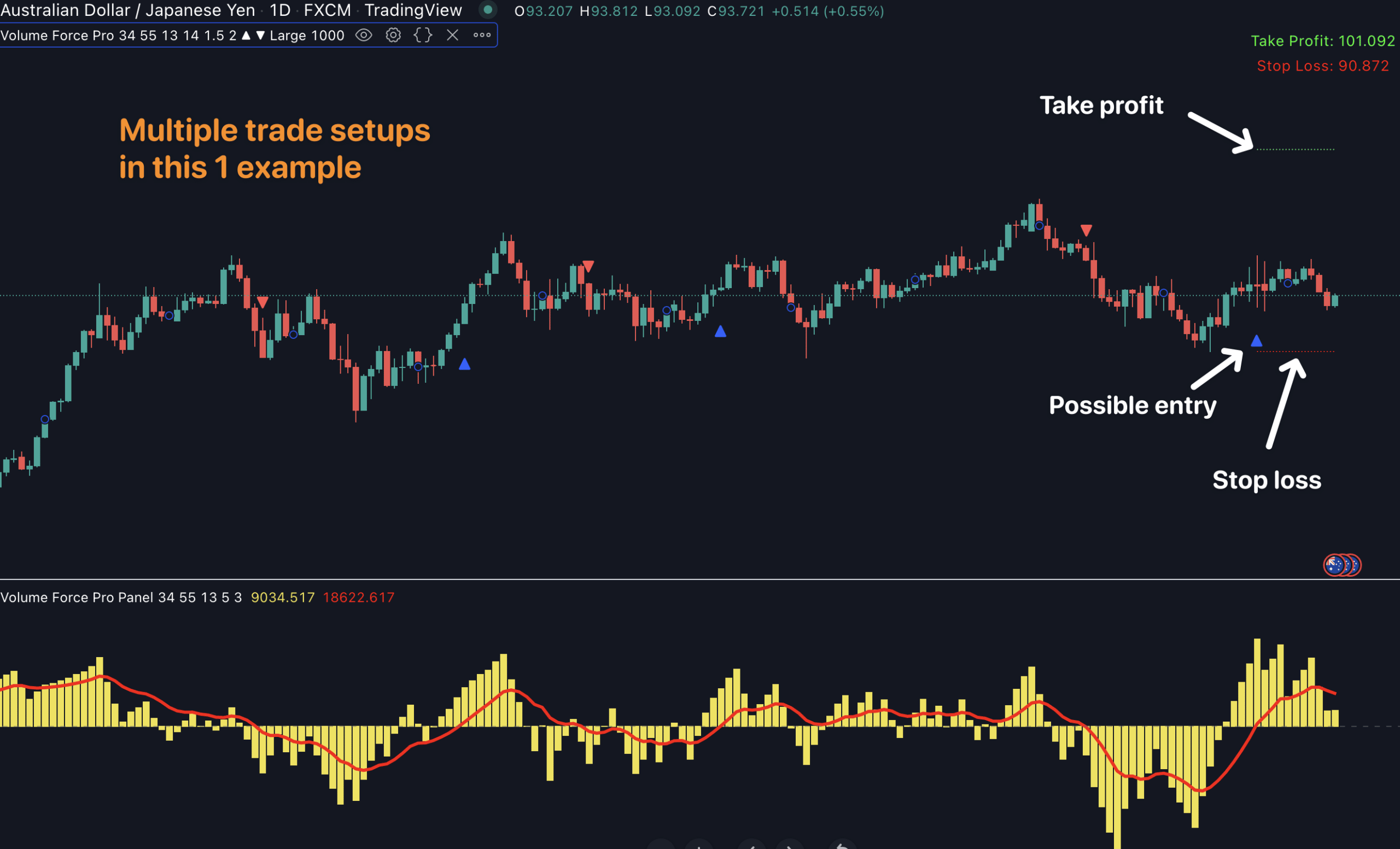 Sophisticated mathematical calculations embedded in the algorithm spits out that data from variables of volume and price that no analysis of out-dated indicators could ever tell you.
And this works for ANY time frame… any currency… or any asset class you're trading.
Come Take Advantage of This Highly-Accurate Trend Trading Phenomenon Today
In the next few minutes, it's possible you could be placing a BUY trade like the one below: When the red signal line in the lower pane crosses the zero line on its way UP, the BLUE arrow prints.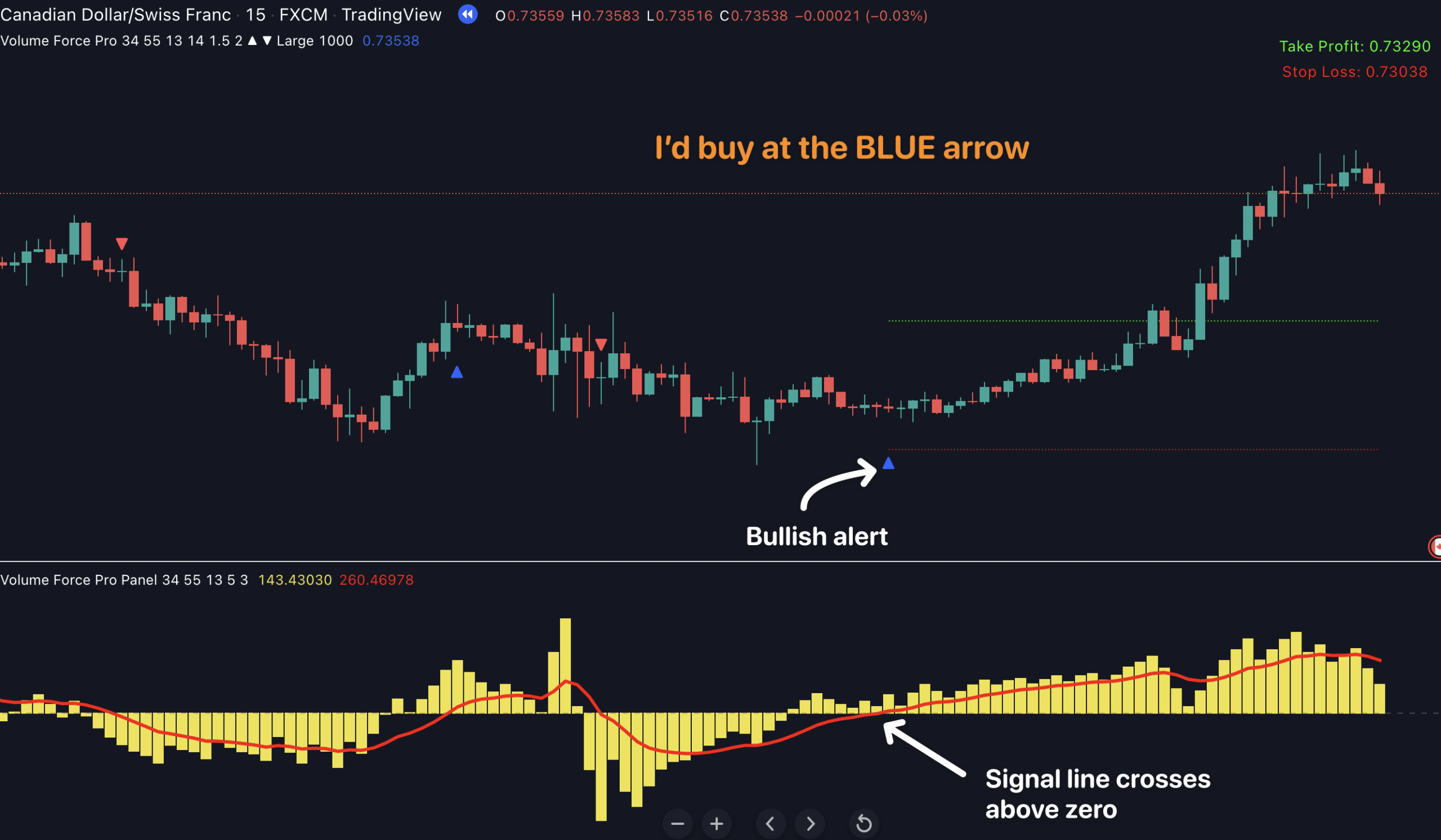 Plus, to make sure you never miss any of these important trades, you'll get alerted by sound, pop-up, email, and mobile notifications:
Timely alerts, so you won't miss out on important trades.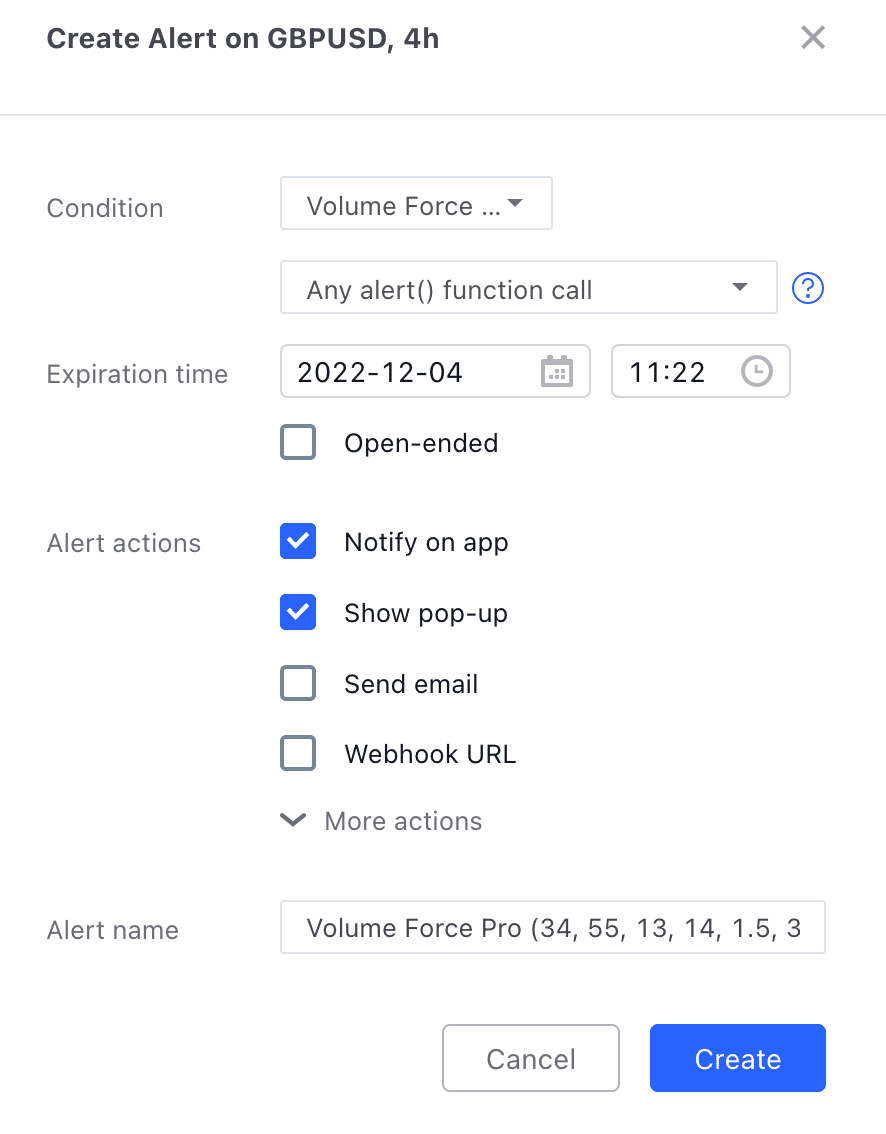 You'll get all kinds of alerts: Pop-up, Sound, Email, and Push Notifications as soon as a new trade setup appears…
And you can customize these alerts in any way you want.