Forex traders increasingly choose non-repainting indicators over in-depth analyses when tracking potential price movements in the future for day trading. This development makes picking the best non-repainting Forex indicator for day trading difficult.
Not to worry. We are here to help you decide which non-repainting indicator is optimal for forex trading. This article attempts to provide you with a thorough understanding of non-repainting Forex indicators and instructions on installing and removing them.
What's the non-repainting indicator in the Forex market?
Non-repainting forex indicators make it easier to spot market patterns and determine if prices are rising beyond their inherent value or falling below it. Any Forex currency may be used and can operate across time frames ranging from one minute to one day.
In contrast to repainting Forex indicators, non-repainting indicators for day trading have prices or values that don't change once a price bar ends. This is because each price level on the bar itself has a high, low, open, and close value.
The non-repainting forex indicators best operate on MetaTrader4 platforms. However, you have to be aware of the scammers, as many people have named indicators as non-repainting and are scamming people.
Yet, if you choose the indication from a reliable website, you can save yourself. We also have some of the most excellent selections if you're still concerned. So buckle up and join us on this informative ride.
Reviewing 4 best non-repainting indicators
Relative Strength Indicator (RSI)
For day trading, this well-liked non-repaint The Forex Relative Strength indicator is a popular tool for assessing the market's strength at any given time.
Above all, the overbought and oversold circumstances can also be easily detected. Meaning that when the RSI is over 70%, it is considered to be overbought, and when it is below 30%, it is considered to be oversold. Readings from 0 to 100 are displayed on the trade chart to demonstrate this using a line graph.
Take the well-known, traditional RSI and combine it with our odd changes to create the A-RSI, which can pinpoint when prices change with laser accuracy.
Our all-new A-RSI indicator combines the Supply & Demand concept and Crowd Psychology to bring about the most advanced custom RSI ever developed.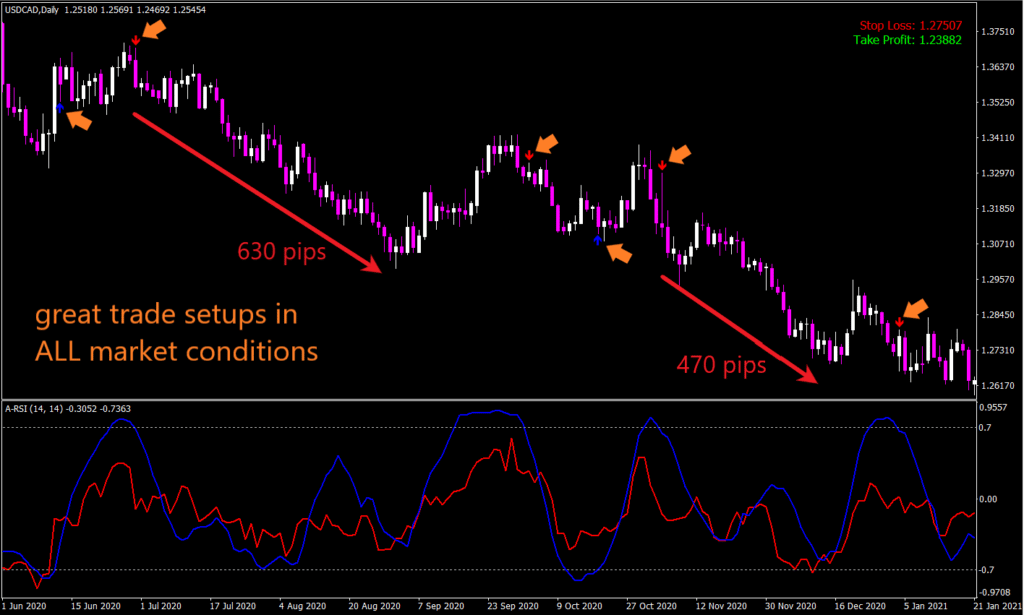 If you are interested, click here to see all the details:
https://vclgt.iljmp.com/11/blog-arsi-mt4
Pros:
Tracking market strength gives traders a precise understanding of when to enter or exit the Forex market.

It determines how quickly and dramatically prices fluctuate.

RSI has the best ratio for operating in a non-trending zone among all the top indicators.
Cons:
RSI gives the wrong signals during the trending zone.

The relative strength indicator never works well; it needs another indication to back it.

Only the non-trending market zone is where it operates. Therefore, if you use RSI in a trending market, it might ruin your business.
Trend direction
This non-repainting Forex indicator for day trading assists in automatically determining the most exciting and profitable entry times. 
Standard Moving Averages can be helpful but they can sometimes lag (and even severely lagging under certain market conditions). We set out to entirely revamp the Super Trend indicator for that reason. 
The all-new Versatile Super Trend indicator, which we just released, allows you to choose a CUSTOM Moving Average for use in its main engine.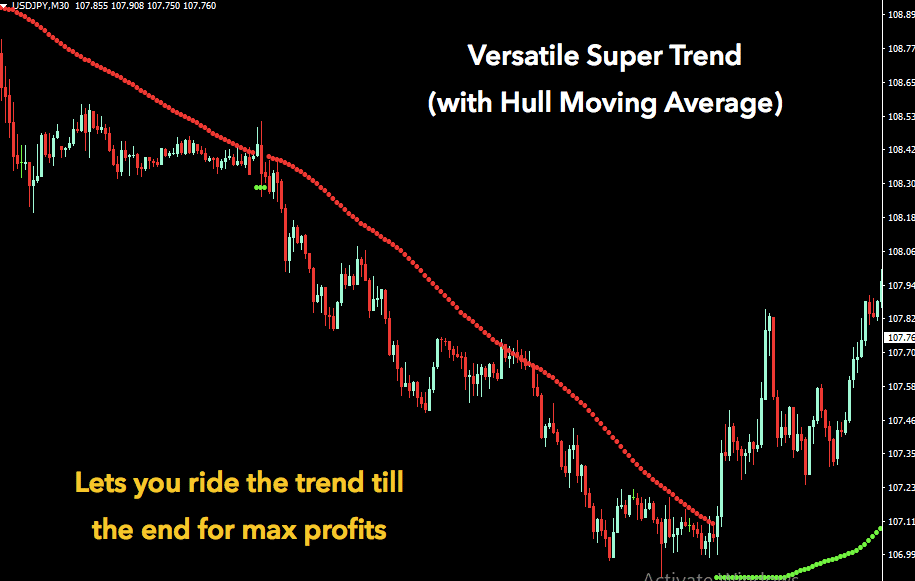 If you are interested, click here to see all the details:
https://vclgt.iljmp.com/11/blog-super-trend-mt4
Pros:
The MT4 consumer platform's trend direction indicator helps to increase profit possibilities.

It can spot when prices are substantially trending.

It can also rapidly and easily comprehend moving averages on trading charts.
Cons:
Due to the many false signals, trend direction indicators may result in more losses than gains.

Trend direction indicators are lagging indicators.

Unlike EMA non-repainting indicators, it sometimes delivers market trend indications after the fact.
Auto Fibonacci
Auto Fibonacci is one of the best non-repainting Forex indicators for day trading. Mathematician Leonardo Pisano developed it to identify regions of support and resistance using technical retracement. These indicators use Fibonacci numbers as their foundation.
Pros:
Auto Fibonacci ensures reliability and efficiency as people can use it in all frames and any currency pair.

They are the most beneficial indicators for long-term timeframes.

You can easily set target prices with the help of Fibonacci retracements in this indicator.
Cons:
It might be challenging for traders who seek to comprehend the strategy's reasoning. 

The beginning point in this indication is elusive. 

It could occasionally send you unpleasant misleading messages.
EMA
John Ehlers and Ric way's EMA indicator is one of the most commonly used non-repainting indicators for day trading in the forex market. It resultantly offers more profit because of its ability to catch trends before time which is one of the best benefits a trader can get from any indicator.
Pros:
EMA reacts to price movements more quickly than an average indicator.

Spotting trends early raises the likelihood of making a significant profit.

They are very dependable for short-term trading.
Cons:
Using EMA is occasionally risky for you since it is more sensitive, which increases the likelihood of false alerts.

Using EMA has the problem that you might be tricked during incorporation periods.

Each predicted period must have a full-time history.
How to install non-repainting Forex indicators for day trading?



Any non-repainting Forex indicator may be set up quickly and easily for day trading. The next few easy steps must be taken before you are finished.

First, transfer any desired Forex indicator for MT4 from an authentic site to ensure the supplier's reliability.

Next, copy-paste the transferred hand into your device's appropriate directory or indicator folder.

Restart your MT4 consumer and open the indicator folder on it.

Select the non-repainting indicator of your choice from the folder and activate it.

If you want to modify the hand further, you can do this at this stage as you like and then press Ok.

You may now utilize and use your non-repainting forex indicator for day trading.
Removing non-repainting Forex indicators for day trading



However, if you want to remove the installed non-repainting indicator, you have to:

Open the notification of an activated non-repainting indicator on your meta trader 4 consumers.

Choose the trading chart.

By clicking on the right mouse button, you can access the list of indicators on the chart.

Select the indicator that you want to reinstall and delete it.
For traders who cannot utilize or are not interested in repainting indicators, non-repainting Forex indicators are a good option. It could give you the essential information you need before trading so that you can quickly turn a profit. 
The four most significant non-repainting Forex indicators for day trading on the MT4 platform are presented in this article to help traders. However, Forex traders also need to be resolute if they want to gain from these indications while minimizing the danger they entail.
We've also put up the articles 3 Popular Forex Trading Strategies To Trade More Profitably and 3 Easy And Profitable Trading Strategies For Beginners to help you out a little. Check it out now!
Join Indicator Vault, utilize the variety of trading instruments offered, and establish yourself as a market power!