1. Introduction
"The trend is your friend" – Sounds cliché, but that's the best (shortest) advice you'll ever obey to ensure success as a trader. It may seem effortless, but only those with live market experience understand how challenging it can get.
Continue reading this article to learn practical ways to identify and assess market trends for exploitation. It also shares exclusive technical tools to oversimplify the process but guarantee profit throughout your journey.
2. Proven Methods To Spot and Assess the Strength of Trends
Every trader, novice and experienced, scalping or swing trading, currency- or stock-minded enjoys trading the trend. It ensures maximum profits until the (foreseen or unexpected) reversal.
Therefore, the struggle to identify them in charts is usually worth it. Confidently picking the most favorable market options takes time, meticulous observation, and expertise.
However, anyone can jump on the following proven strategies to (potentially) win big today:
2.1. Moving Average Stunts
Moving Averages, regardless of the type, smoothen price data. Hence, the correct choice and calibration (based on one's strategies) are priceless for identifying trends.
The tool's rise or fall below or above price over time is enough to understand whether the market is in a long-, short-, or intermediate-trend.1.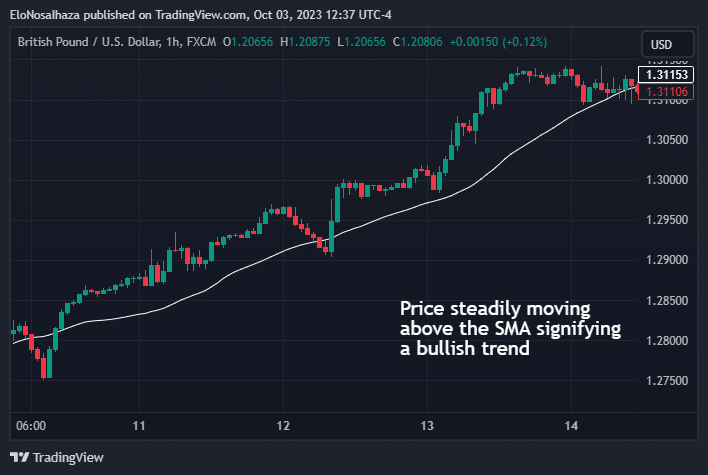 Analysts also use their crossovers to anticipate reversals.
2.2. Trendline Support/Resistance
Trendlines have also always convinced technical analysts of bullish or bearish conditions. The lines connect to swing highs and lows of the most recent price data.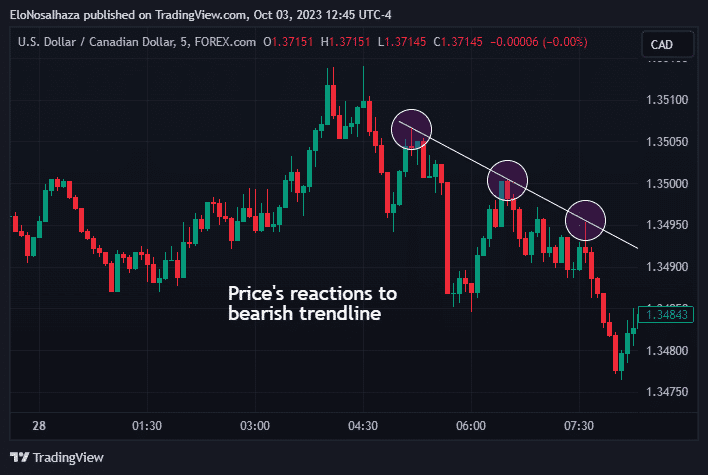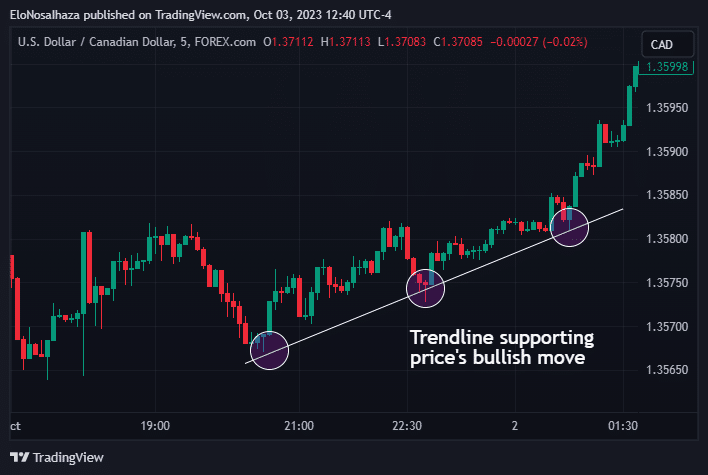 As seen above, an upward-sloping line reveals a bullish trend, but a downward-sloping one indicates bearishness in any timeframe.
2.3. Price Patterns' Verdict
Price patterns can also hint at the continuation of trends. A popular one is the flag, used in technical analysis.
It comprises the pole (the earlier bullish or bearish movement) and a flag (a brief consolidation). Traders expect the price to break out from the flag in the same direction as its pole. Thus, any new position will align with such expectations.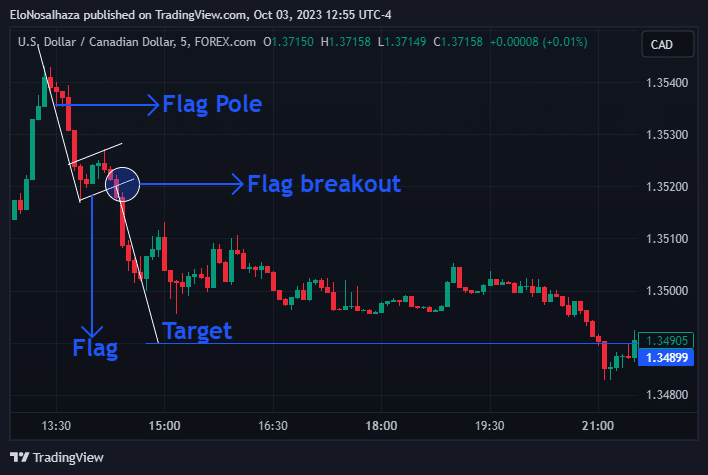 2.4. Fundamental Drivers
Many fundamental factors can inspire short- and long-term trends in the markets. They could be economic news, geopolitical events, company filings, etc.
Admittedly, they are more challenging to decipher than experts make it sound, but you can improve your understanding day by day.
2.5. Volume Analysis
Market volume has several practical uses, but trend-followers can rely on it for more price insights.
The strategy will depend on your extensive market study over time, but a rising volume typically indicates a stronger trend. Conversely, a steady decrease in trading volume can signify trend weakness.
3. Valuable Tips for Profitable Trend Trading
Nothing is more rewarding than profitably trading with an underlying trend. Your equity size can keep increasing until the price fills your take-profit level or a significant reversal occurs.
Nonetheless, it has challenges that could stunt your promising growth. Below are a few tips and tricks to always consider when following the trend:
Curb the obsession to pick tops and bottoms, especially as a beginner
Never forget risk management, as reversals could happen anytime
Understand there are different timeframes. Trends can be short-, intermediate-, or long-term
Always keep your emotions in check
Tweak or change your trend-spotting and strength-assessing strategy if it isn't working.
Some markets trend better than others. Find and work with them for the best results.
Lower your expectations, as there's never a guarantee any trend will last
Watch out for high-impact news and events that could change the current price narrative.
The list is endless until you attain steady profitability from trend-following.
4. Practical Technical Tools Every Trend-Following Trader Must Use
Trading trends demand spotting them, possibly verifying their strength, waiting for an entry signal, and setting risk management orders. It can be quite a handful for every analyst.
Therefore, using one or more of Indicator Vault's trend-following systems for TradingView is highly recommended.
Better Trend Trading's algorithm identifies (at least) three of the best trend breakouts and presents only the most likely option. No run-off-the-mill indicator is capable of this.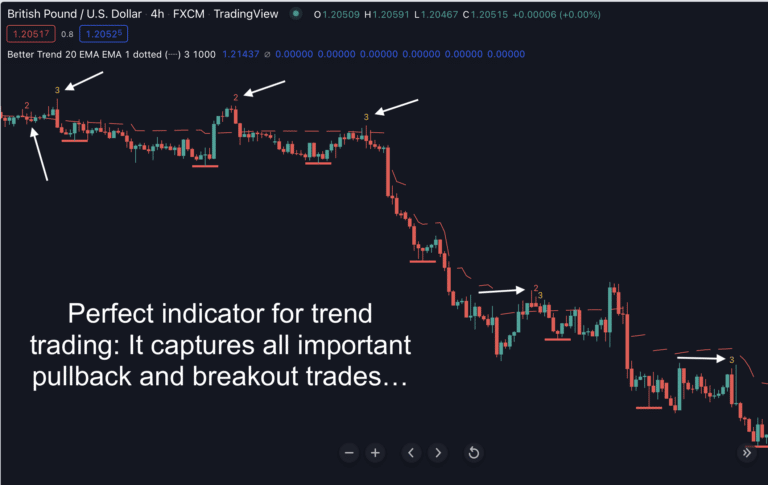 In short, every user can achieve the following with this tool:
Earliest trend entries with the best risk-to-reward ratios
Significantly improved probability for forecasts to pan out
Freedom to engage any market from Forex to stock and indices
Prompt alerts immediately there's a market opportunity
Confirm these and more perks by clicking here ASAP.
The Logic Trendline Indicator may be the better option if you've found trendlines most practical for trend-following. It removes all the subjectivity typical to these lines to ensure you only take the best opportunities.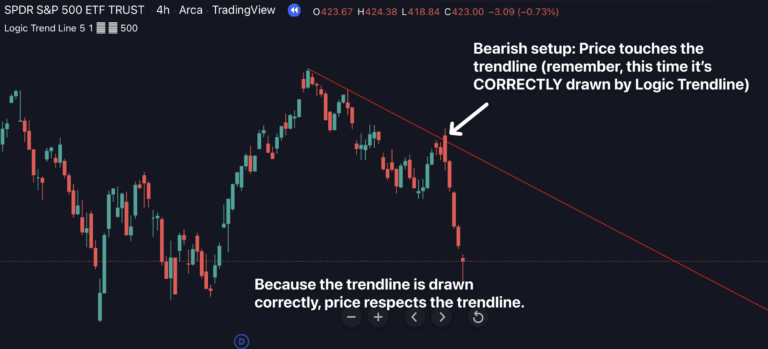 Here are some advantages of the exclusive indicator:
Increased confidence in trend-following, credit to its high-probability signals
Quicker trade entries on any desired market
Timely notifications to bring user's attention from within and outside TradingView
Click here to enjoy these and more today.
Another outstanding indicator for novice and expert trend trading is the Dynamic Bands. It combines the power of Simple Moving Averages and Bollinger Bands to unlock the next most probable price direction.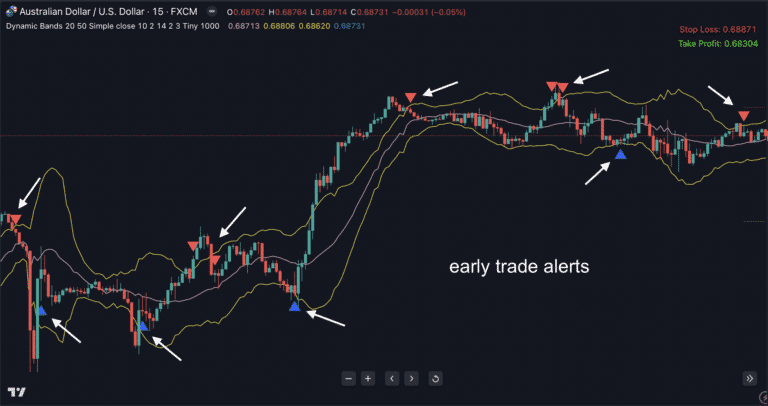 Traders capitalize on bullish markets when the price exceeds the upper boundary before crossing below it, and vice-versa.
Below are the perks of using it for trend-following:
Assurance of the price's most probable move due to the system's high standards for bullish and bearish signals
Valuable suggestions on the most favorable profit and stop-loss targets
Liberty to follow trends in any desired market
Instant alerts, from sound to email and pop-up that brings your attention to new trend-trading opportunities
Give it a shot here now. Its trend-spotting precision will floor you.
Finally, traders seeking greater (behind-the-scenes) complexity can turn to the Smooth Trend Finder for mind-blowing signals. It focuses on the most recent candlestick, among other parameters, to predict the start of new trends.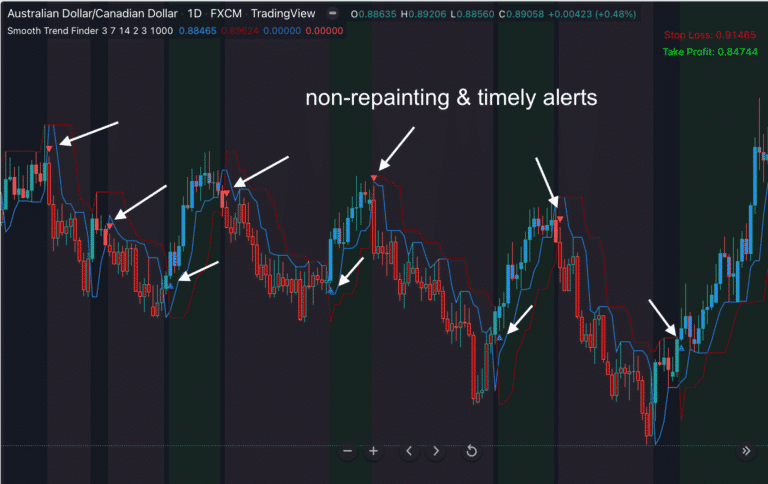 Its algorithm ensures every trader boasts these benefits:
Ability to enter and leave long- or short-term trends ASAP
Knowledge of a probable price reversal
Awareness of approaching sideways markets and fake trend signals
Easily customizable signal notifications from within and outside TradingView
Doubt the hype? Click here and witness the indicator first-hand.
5. Conclusion
Trading with the trend is a no-brainer. It has the least resistance should it continue. Hence, it's a popular piece of advice amongst every experienced trader.
That said, finding them, making excellent entries, and amassing significant profits takes time and effort.
Fortunately, Indicator Vault's trend-trading bundle, including the Logic Trendline, Better Trend Trading, Dynamic Bands, and Smooth Trend Finder, will take even novices to the next level.
Please ask questions or leave contributions in the active Comment Section below, and remember to share this article with other ambitious traders on social media.