1. Introduction
SMC (Smart Money Concepts) as fondly mentioned has been making serious waves in trading. Fundamental and technical analysts are now embracing the trend, picking one or more theories to supplement various strategies.
Fortunately, you also can, after learning the relatively new discipline from this concise article. It shares its history, terminologies, and strategies through sample trading scenarios.
2. Understanding Smart Money Concepts
Authored by Michael J. Huddleston (The Inner Circle Trader – ICT), Smart Money Concepts has become a hot topic in every trading circle. The sheer success independent analysts have scored with them makes many wonder why they took so long to blow up.
According to Michael in the Market Efficiency Paradigm, two groups of traders are available – the Speculative Uninformed and the Smart Money.
The latter knows of the former, but the reverse is hardly true.
Speculative Uniformed Money: This group comprises retail traders outside the Smart Money circle. Based on their vastness, the individuals erroneously believe they move the market with several theories, including Supply-Demand and price response to indicators.
Smart Money: Proponents of Smart Money Concepts believe the Smart Money band contains the authentic market influencers, i.e., the participants that move prices around. Banks are the most significant members (liquidity providers), so every price action always benefits them.
As a result, Smart Money Concepts are trading theories the Smart Money group uses to get in sync with the actual market. Traders that subscribe to this discipline practice several obscure but proven techniques.
Popular Terminologies in Smart Money Concepts
As discussed, trading with Smart Money Concepts seems cryptic. Everything brought to the table is entirely new, and the style doesn't fall under the fundamental or technical side of analysis.
Hence, the author coined several trading terms interested traders should learn to be part of the group. Below are a few such:
PD Arrays: In Smart Money Concepts, PD arrays are significant chart reference points that can trigger price reactions. They include order blocks, breakers, old highs & lows, etc.
Order Blocks: The order block is arguably the most discussed PD array. It is the last up- or down-close candle before a (usually significant) move in the opposite direction.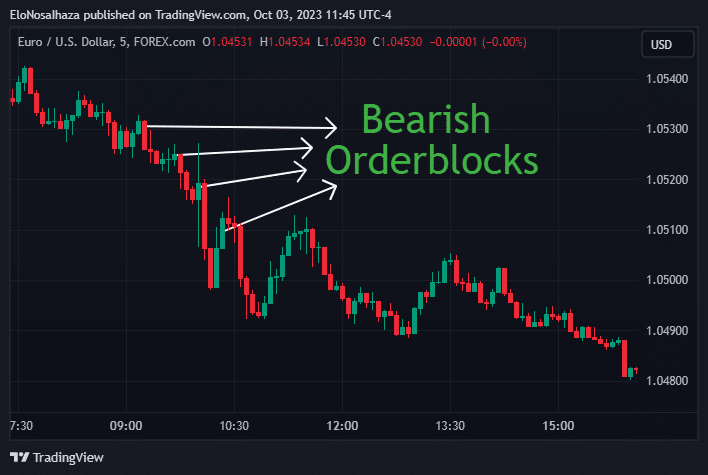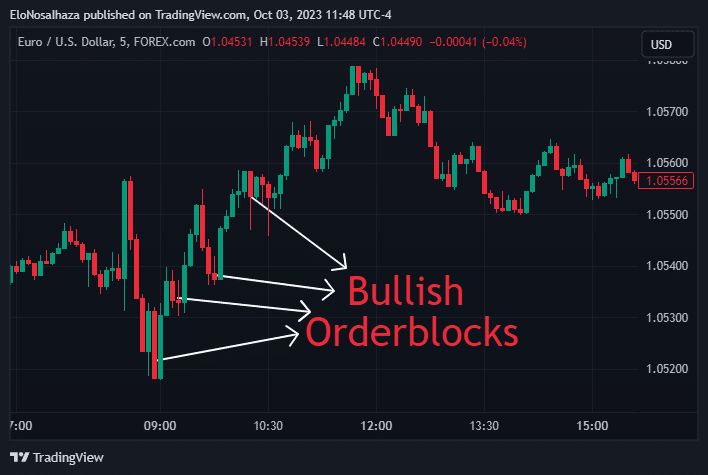 Breaker Blocks: A bullish breaker block is the highest 'bullish' candle between two swing lows (the second lower than the first), and a bearish one is the lowest 'bearish' candle between two swing highs (the latest higher than the first).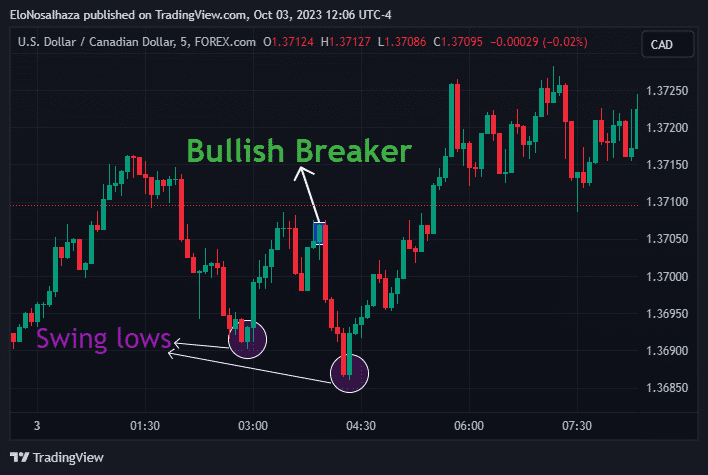 Fair Value Gaps: A Fair Value Gap (FVG) is a price range only offered in one direction. It involves three candles, as it's the "space" between the first's high/low and the third's low/high on the middle candle.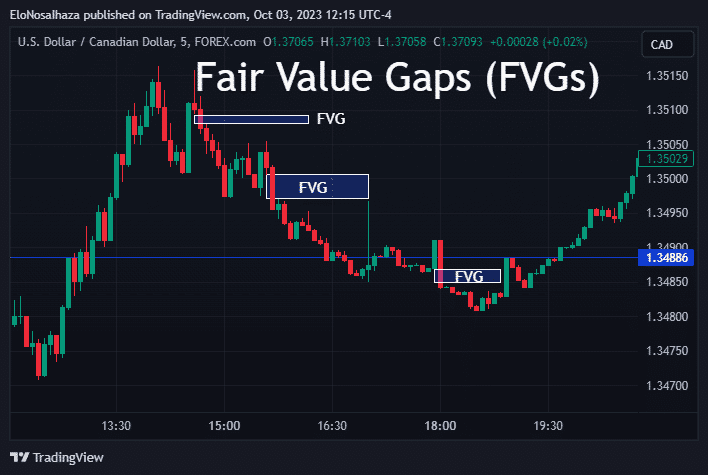 Equilibrium: The Equilibrium is the midpoint of any price swing. Above it is the "premium" market, and below it is the "discount," as seen below: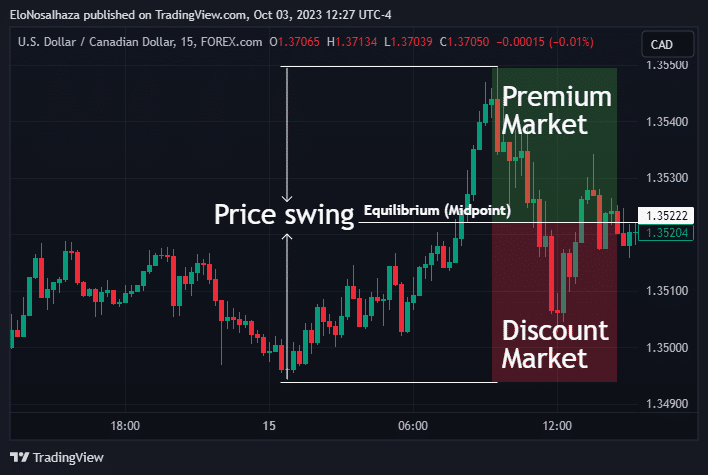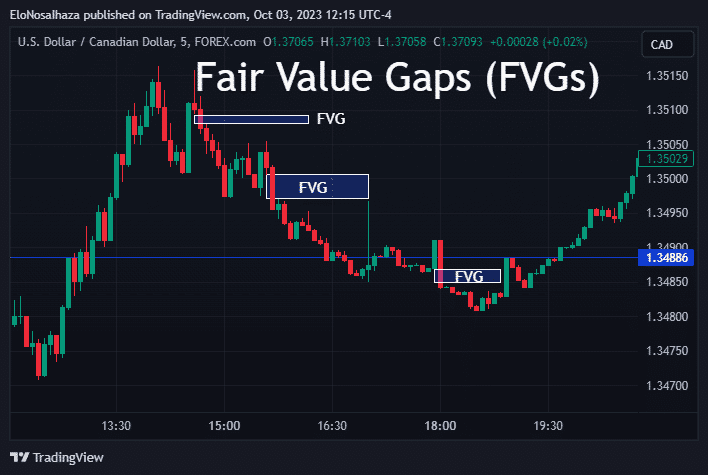 3. Case Studies of SMC in Action
As a relatively novel technique, the best way to understand and apply Smart Money Concepts is by observing live examples. There is no single be-all strategy that works every time.
Therefore, among the author's rich online content, here are three unique and practical live/demo trading scenarios:
3.1. Opening Range Gap + Mitigation Block & FVG Entry
A popular Smart Money Concepts belief is the division of active (daily) trading sessions for E-Mini futures into AM and PM sessions. As the AM session (7 am-11 am ET) begins, traders expect high-impact news to influence a significant market move smart money traders can exploit after a 'Judas swing'  and break in market structure.
3.2. Emini S&P 500 Review
The Smart Money Concepts January 3, 2023 review on Emini futures revealed a volume imbalance and an old swing high of interest on the daily chart before moving to lower time frames. Despite the bullish interest from higher time frames, a break in market structure and bearish Fair Value Gaps indicated it was best to go short, intra-day.
3.3. Live Execution Examples
The author's January 30, 2023 live examples were based on a liquidity pull from higher timeframes. The trade entry trigger was a bullish FVG as ICT placed the stop loss below a breaker block
4. Fundamental Tools To Improve Your Smart Money Concepts Trading Analysis
Trading with Smart Money Concepts is more challenging than it sounds. Most of Michael's mentees needed extensive 12-month programs and continual trading sessions to boast their results today.
Thanks to Indicator Vault, you don't need such intense efforts to think, analyze, and trade like a 'Smart Money Concepts' trader.
4.1. Smart Liquidity Void
The Smart Liquidity Void indicator for TradingView is based on Smart Money Concepts's theory about "liquidity voids." They are "gaps" in the market where the price will likely "rebalance" for market efficiency.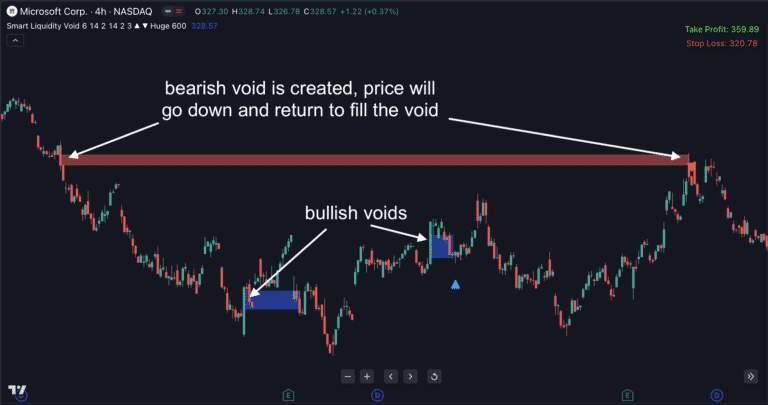 Therefore, this technical tool will guarantee the following:
Little to no effort in spotting liquidity voids in any market across all timeframes
Accurate forecasts of prices' next moves, whether reversals or continuations
Most favorable take-profit level before possible reversals
Timely alerts from within and outside the platform to ensure you never miss an opportunity
We're running a special discount for this indicator, up to 80%-off if you're buying the SMC bundle. This offer only lasts for one week and ends at midnight on November 7, 2023.
4.2. The Propulsion Edge
Another well-known Smart Money Concepts theory, the propulsion block, is also the bedrock for a solid TradingView indicator – The Propulsion Edge. Every user taps from the following benefits from day one:
Ease of locating propulsion blocks that could be a criterion in any trading strategy
Higher precision in forecasting potential reversals
Ability to engage any market and timeframe desired
Assurance traders never miss exciting opportunities through fast and reliable notifications.
Check it out here now to remain ahead of the curb.
We're running a special discount for this indicator, up to 80%-off if you're buying the SMC bundle. This offer only lasts for one week and ends at midnight on November 7, 2023.
4.3. Supply Demand Reversals

If you still strongly believe in supply and demand theories, you'll be interested in their chart levels hinting at potential reversals. Indicator Vault has made this process much easier by building a powerful TradingView tool – Supply Demand Reversals.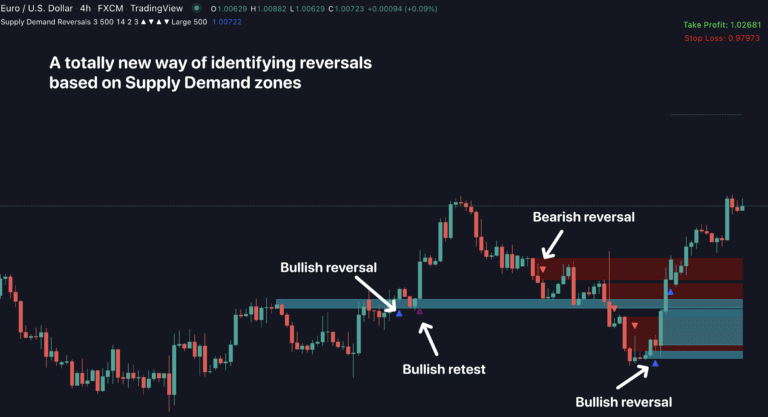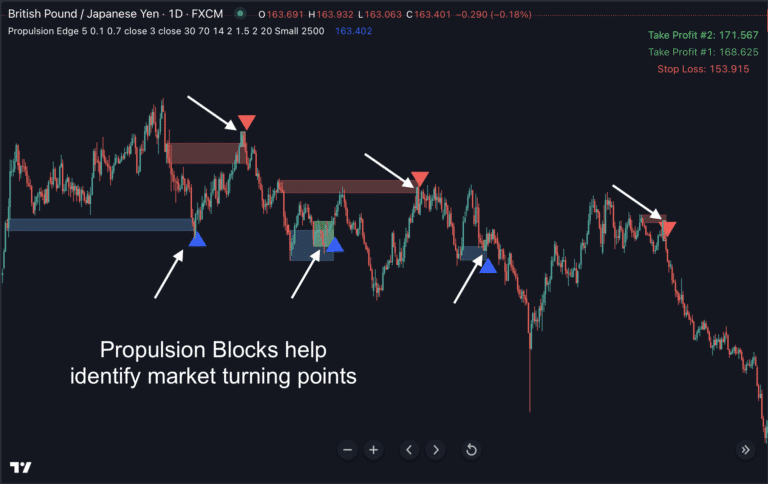 Below are some unmatched benefits of its application:
Quicker and more accurate reversal forecasts from supply & demand zones.
Best risk management advice for positions, including the stop-loss and take-profit levels
Zero restriction to any market and timeframe
Prompt alerts via push notifications, emails, pop-ups, and sound
We're running a special discount for this indicator, up to 80%-off if you're buying the SMC bundle. This offer only lasts for one week and ends at midnight on November 7, 2023.
4.4. Market Structure Pro
Conversely, the main recipe for reversals in Smart Money Concepts is a market structure break. Bullish markets turn bearish, long- or short-term, and vice versa.
Hence, Market Structure Pro for Tradingview is all you need to trade reversals like a pro. It works with the last bullish (or bearish) order block before the most recent lower low (or higher high).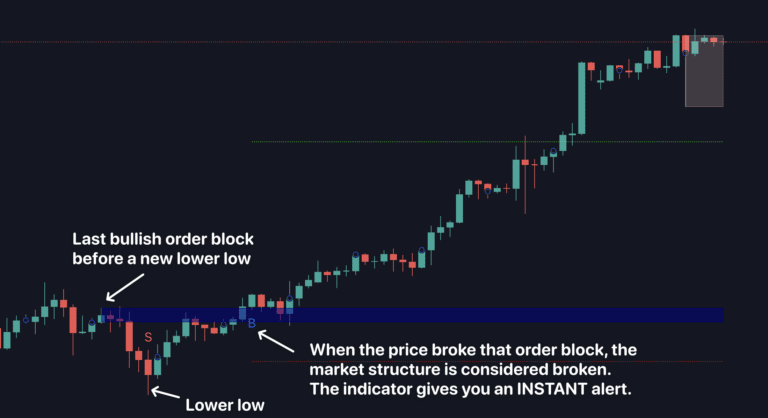 Here are a few (of several) advantages you'll enjoy from this indicator:
High-probability reversal prediction at the earliest
Multi-time frame analysis confirming short-, intermediate-, or long-term reversals
Proven suggestions for stop-loss and take-profit placements
Freedom to analyze any market, from commodity to currency and stocks, in all time frames
Punctual alerts from within and outside TradingView
See it here now for a chance to break the markets.
We're running a special discount for this indicator, up to 80%-off if you're buying the SMC bundle. This offer only lasts for one week and ends at midnight on November 7, 2023.
5. Final Thoughts
The Smart Money Concepts, one of the latest trading trends, is worth investigating. It isn't a fundamental or technical discipline, yet the results from current subscribers are mind-blowing.
Traders can always visit the author's social media pages to be part of the circle. However, Indicator Vault has made it a choice by creating multiple indicators predicated on the Smart Money Concepts discipline.
There are several market opportunities to employ these indicators. Thus, don't hesitate to share this article to assist other traders on social media.
You can also make inquiries, share suggestions, or post your results in the engaging comment section below.