In the world of forex, in addition to having a solid knowledge base of trading, traders should prepare a set of trading tools for themselves. This toolkit should include technical trading indicators that help you quickly catch up with today's complex price movements. This article will suggest you 5 powerful indicators that are indispensable in the arsenal of a successful trader.
1. What are technical trading indicators?
1.1 Definition of technical trading indicators
Technical trading indicators is a familiar concept in technical analysis which is a way to predict what will happen to the prices of assets such as currency pairs, stocks,… in the future.
Technical indicators are simple math algorithms which utilize past price and volume data to help traders find trends and possible trading chances. These indicators use different mathematical methods and statistical models to look at how prices move and find patterns and trends that may not be obvious to the naked eye.
1.2 Importance of technical indicators in trading
As we can see, the foreign currency market in particular, and the financial market in general, are not predictable. I mean that each price movement demands a certain level of focus in order to make an informed decision.
That is one of the reasons why traders regard the existence of trading indicators as particularly significant, if not critical.
Trading indicators with advanced features can reduce risk, improve decision-making, and increase the predictability of price patterns. They aid traders in determining market entrance and exit points, as well as providing vital information such as volume, gloss, and trend strength.
Nowadays, traders of all levels of experience utilize trading indicators to make informed trading decisions and boost their chances of success in the financial markets.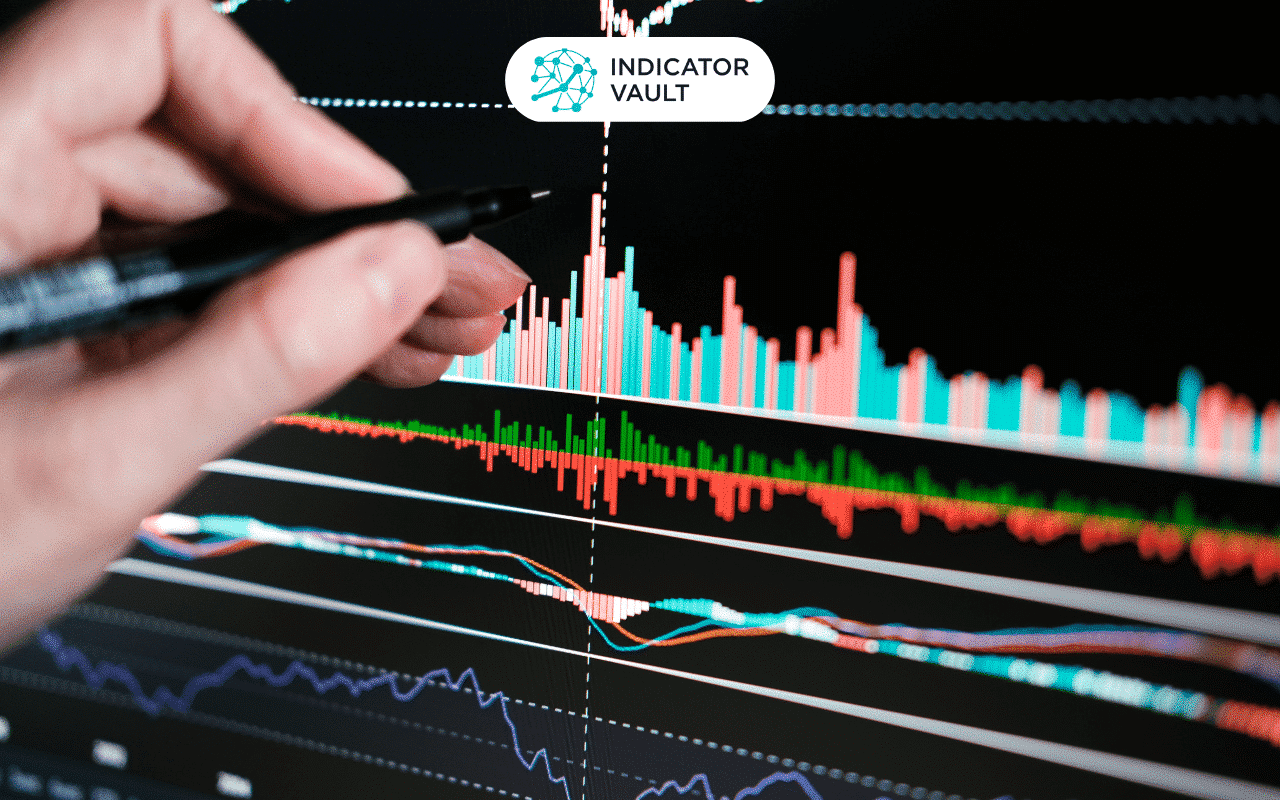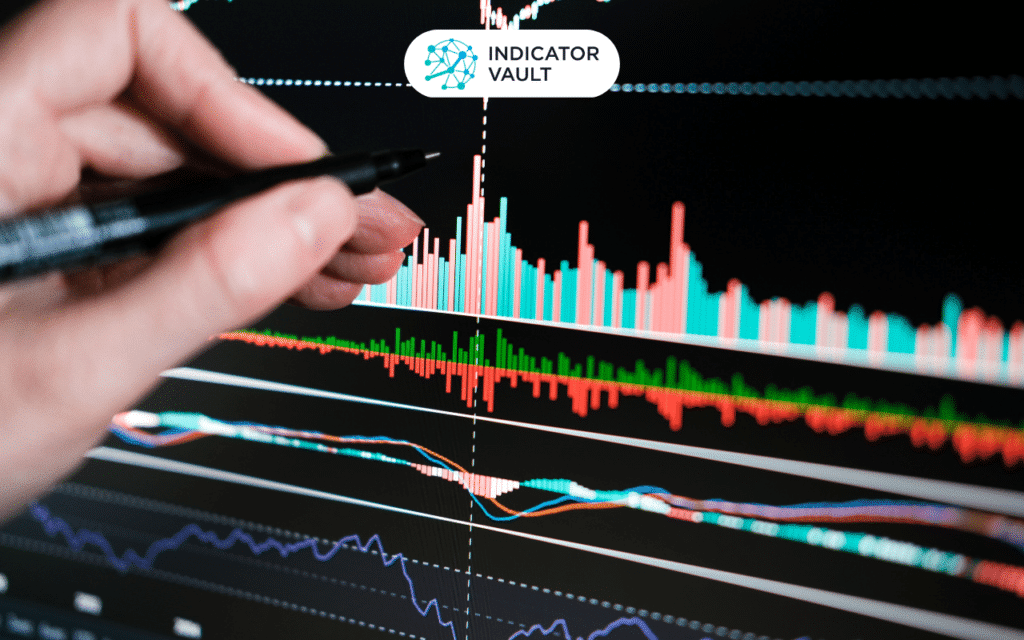 2. 5 key technical analysis indicators
Because of the importance mentioned above, there are more and more forex indicators appearing in the market, which also leads to many relevant problems. Such as a popular topic: repaint indicators, non-repaint indicators,…
For beginners, I strongly recommend that you start your trading career safely using the basic forex trading indicators first, which are available on all platforms. You can check out details here: 7 Technical Indicators to Build a Trading Toolkit
Once you get used to those basic indicators, you may already be confident enough to use more complex technical indicators that can offer more attractive features from the developers of indicators in this field.
And in this article, I will introduce you to some powerful indicators that helped me a lot over 10 years of trading. In fact, I have tried many different types of indicators and have selected the 5 reliable indicators below to build an amazing toolkit.
2.1 Supply Demand Pro indicator
The Supply Demand Pro indicator for TradingView is the first indication that has to be mentioned. The concept of supply and demand zones, which is common and fundamental in trading, was used as the foundation for the development of this indicator.
Apart from resistance and support, the supply and demand zone is the leading predictor of price action. It acts like a magnet, attracting the price before it reverses. So this indicator is really helpful in reversal trades.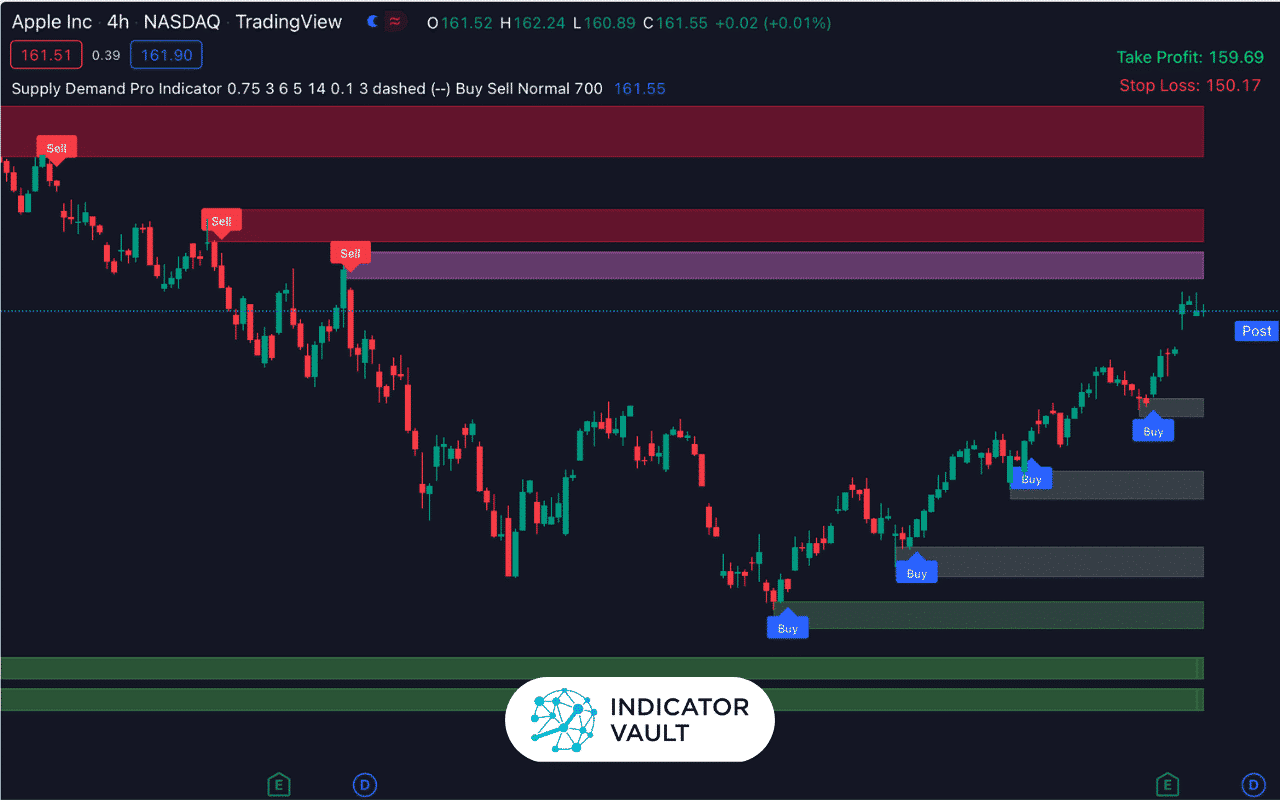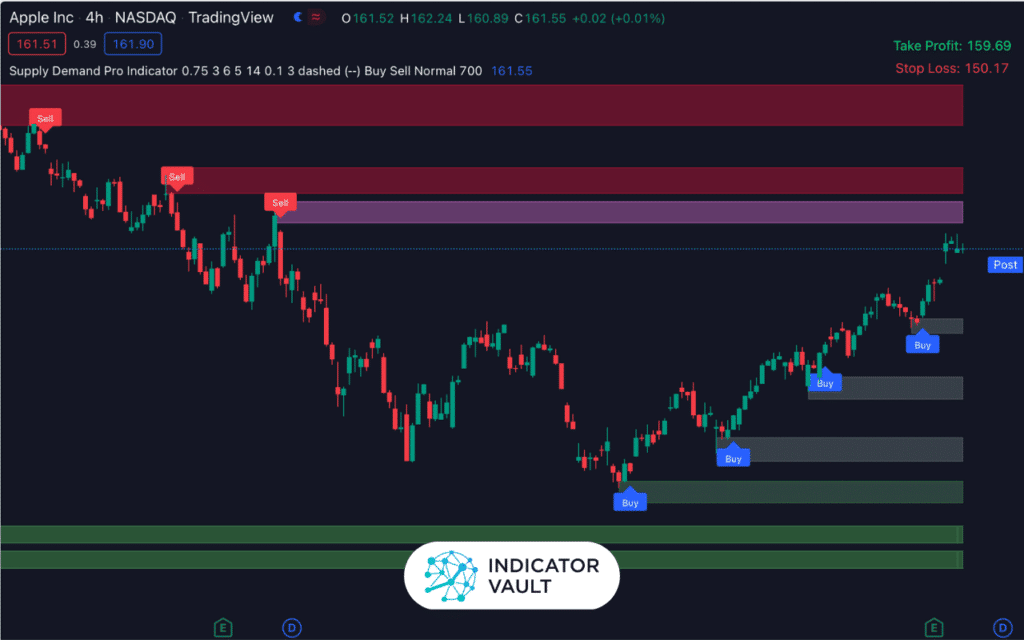 Here's some of its outstanding features:
Our new Supply Demand Pro for TradingView detects all the strongest supply demand zones for you.

It really is a hands-off way to find strong supply demand zones. And you can use these supply demand zones as BOTH entries and exits.

You'll also get timely alerts. And suggested stop loss and take profit, so you can rest assured that your trades always have an optimal reward-to-risk ratio.
To explore other secrets behind this amazing trading product, you can check out here.
2.2 Natural Momentum
If you are interested in momentum and trend trading, then you should definitely use the indicator that I am about to introduce, the Natural Momentum indicator.
This indicator will provide you an extended edge in the market if you use the updated algorithm. It will, in particular, use real-time calculation of historical market momentum and behavior to forecast price changes and pinpoint future market turning points.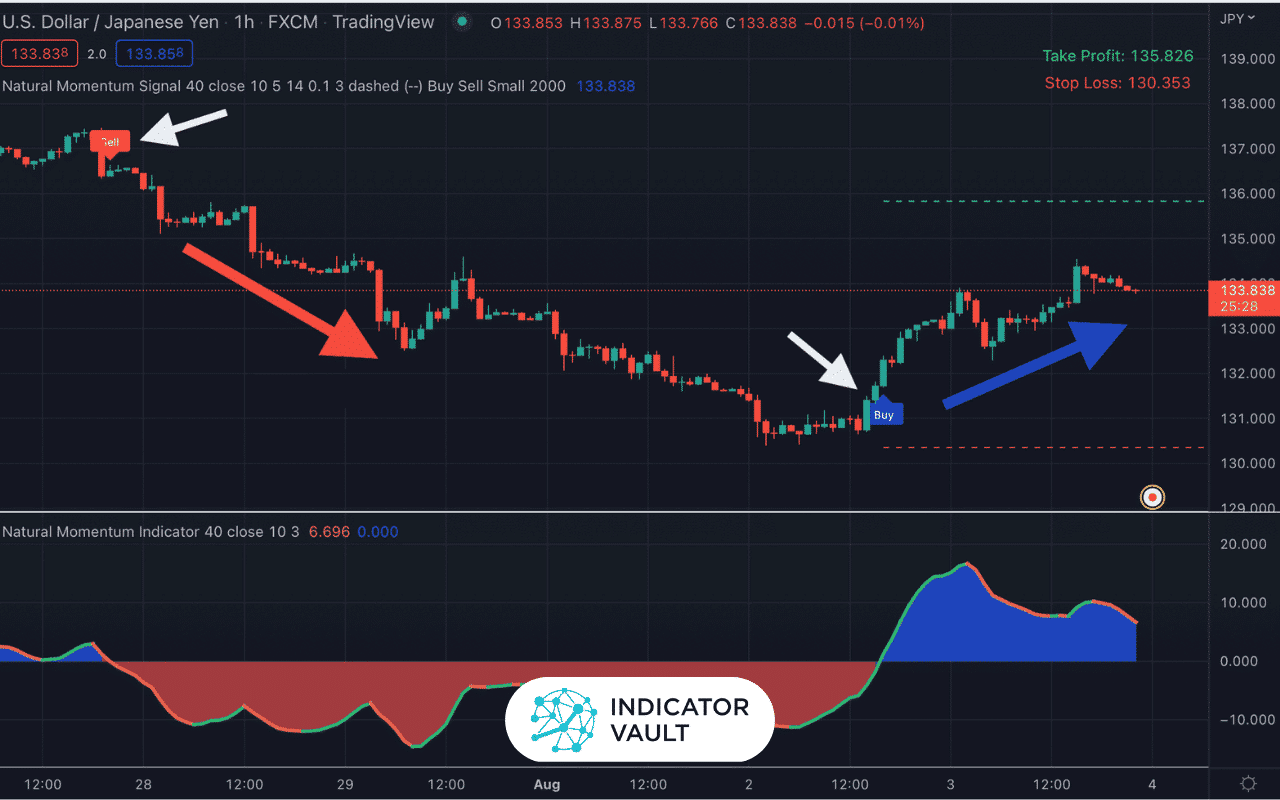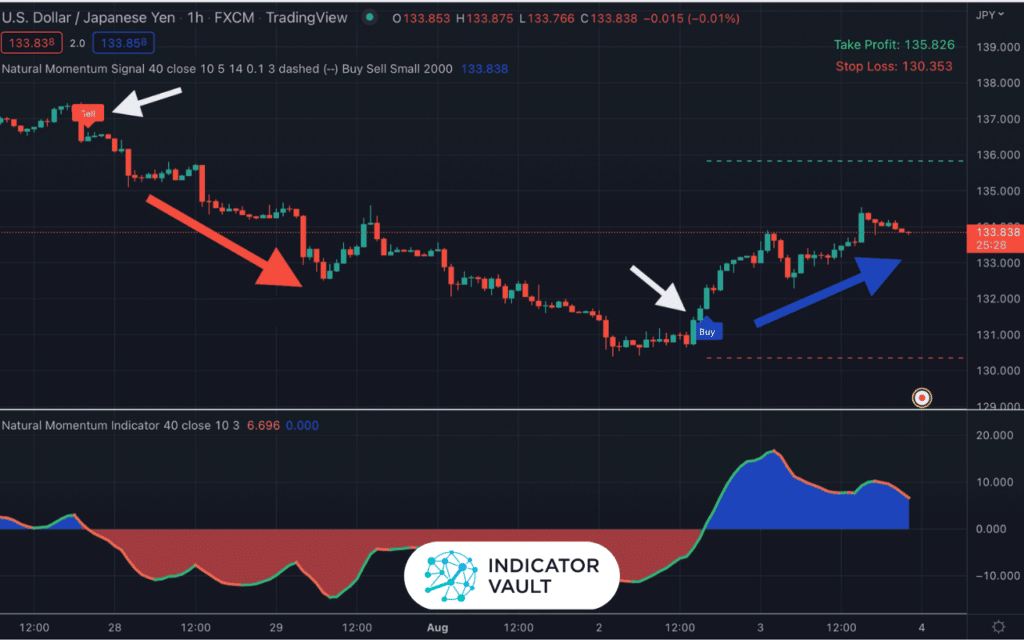 Here's what this indicator can do for you:
This Natural Momentum indicator predicts when the market is slowing down, and when the trends are about to change. By using natural logs in its algorithm to evaluate all relevant past market data.

Identifies high-probability trade setups, thanks to its sophisticated real-time calculation.

Weeds out many false signals, by using TEMA formula to filter market noise.
Of course, in just few sentences above can't show all advantages of this indicator, so you can check out details here: Natural Momentum indicator for TradingView.
2.3 Candlestick Pattern Pro
The third indicator I want to introduce to you is Candlestick Pattern Pro. As its name suggests, this versatile indicator detects over 30 candlestick patterns and plots them beautifully on your charts in real time.
That's right. You didn't read it wrong. There are 30 different candlestick patterns such as: reversal, continuation, trend exhaustion patterns and single, double, and triple candlestick patterns,…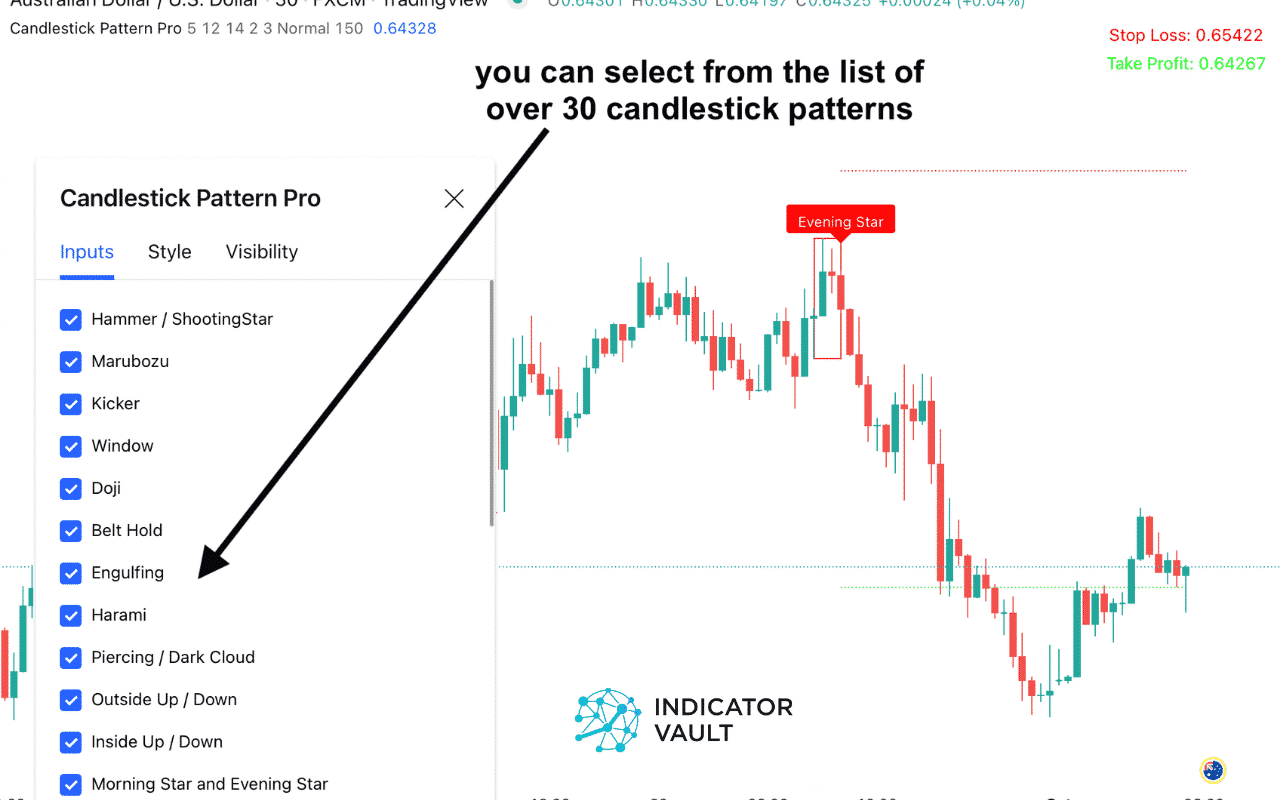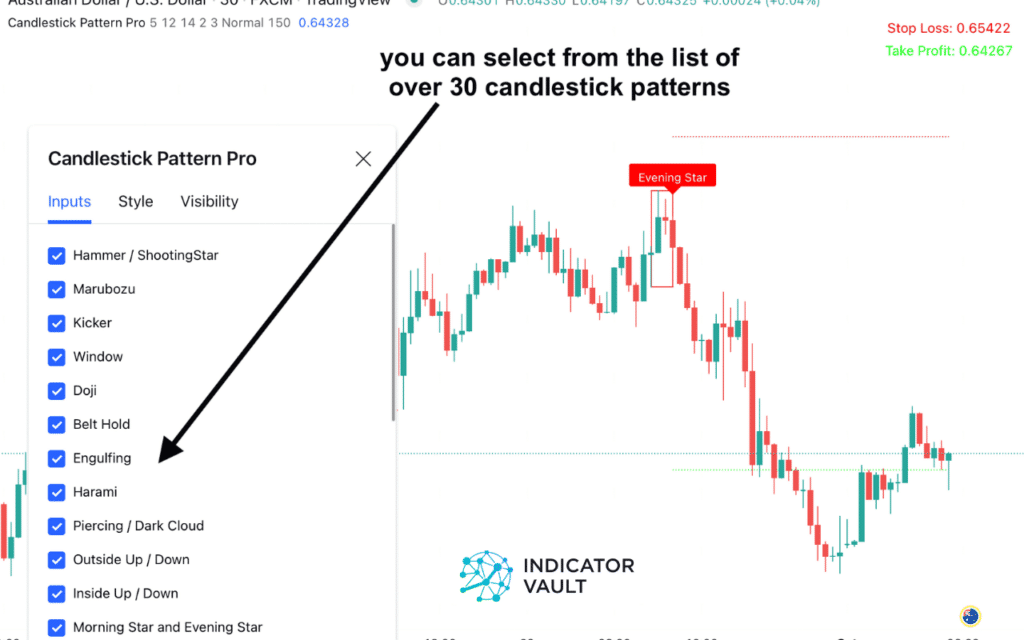 In addition, this indication can help you in the following ways:
Highlights the patterns clearly on your charts as soon as they appear

Gives you audio, visual, and pop-up alerts whenever a new pattern appears

Does NOT repaint… ever!
Interested? Click here to see details…
2.4 Order Block Gen Indicator
The following trading indicator is a powerful tool for gaining a trading edge in intraday and swing trades.
You've certainly heard of the term "order block," which refers to the process of purchasing or selling the "footprint" left by huge institutions.
When using order blocks, you will no longer be caught on the wrong side of the market. Never again get wrecked by the constant fear and anxiety, struggling to find winning trades, and living hand to mouth.
For this "weapon" to be effective, you will require the right kind of tool. And that answer is Order Block Gen indicator.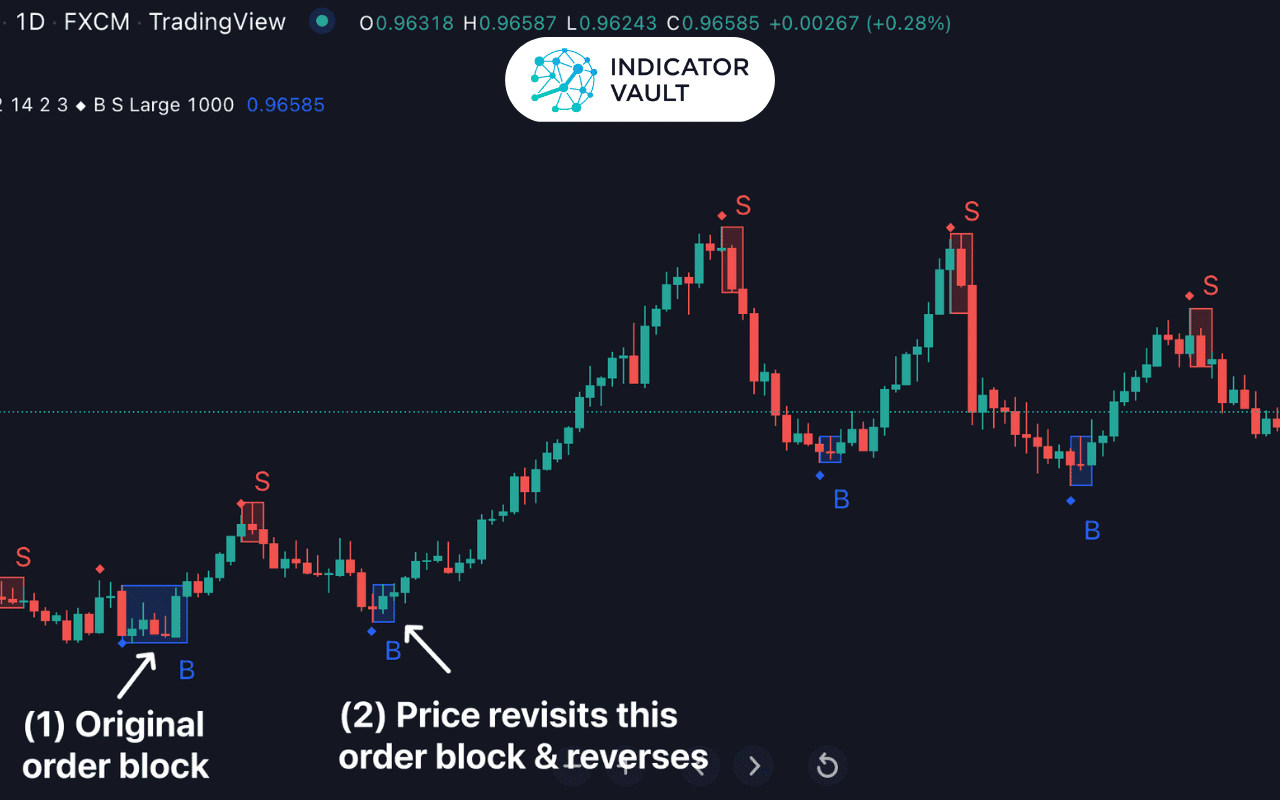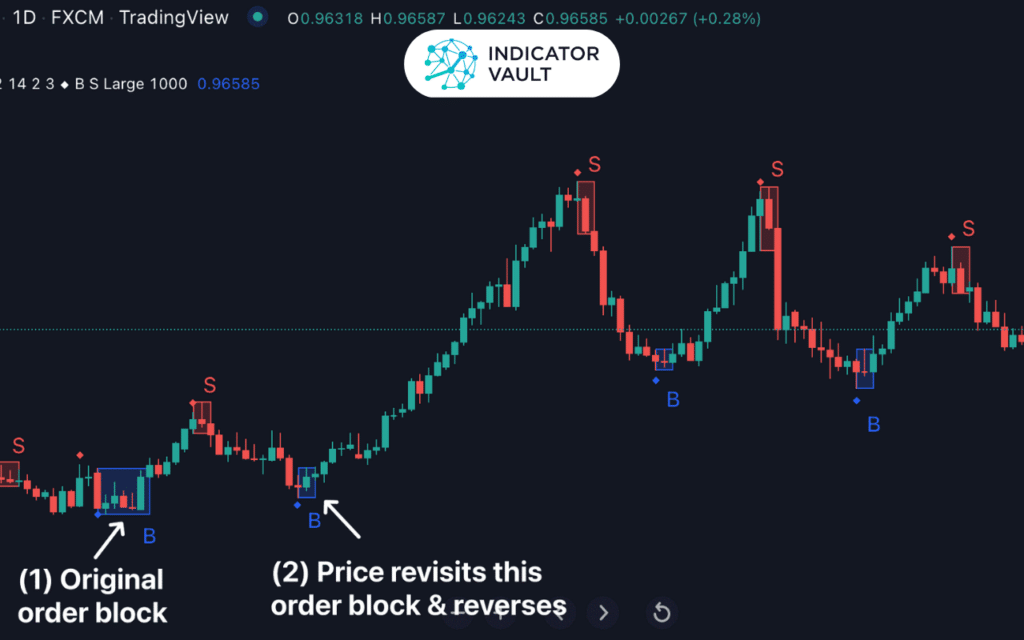 You can benefit in a couple of ways from this indicator:
Instantly see all possible reversal points across ALL currency pairs and ALL timeframes.

Know, with a high degree of certainty, how the price will behave when it hits these reversal points.

Stop falling for "fake" trade setups. Know the REAL direction of market moves.

Start experiencing MORE quick wins and BIGGER wins from these order block-based reversal trades.
Learn more about Order Block Gen indicator
2.5 Logic Day Trading Indicator
Last but not least, Logic Day Trading is a special indicator with a strange combination of two concepts: a new trading concept and breakthrough mathematical technology.
It will work great for scalping and day trading intraday charts (best for 30-minute and 1-hour time frames).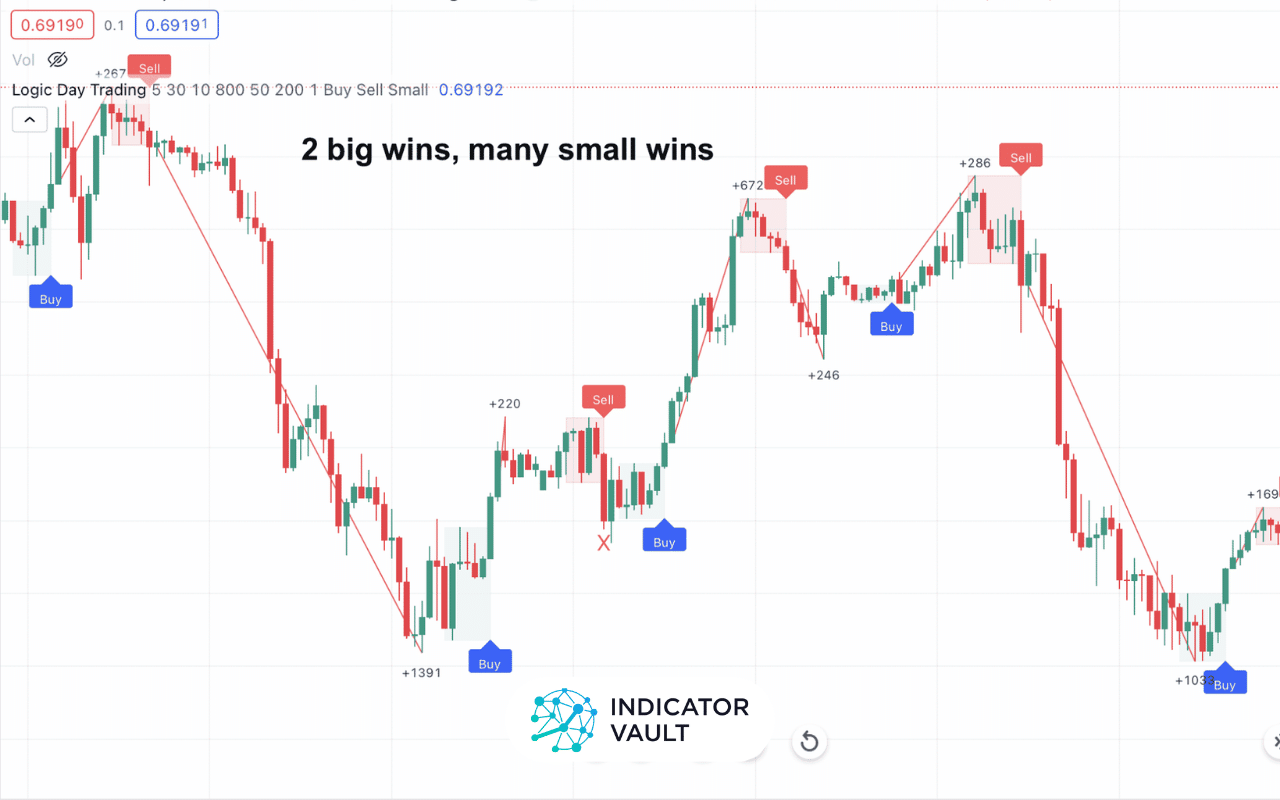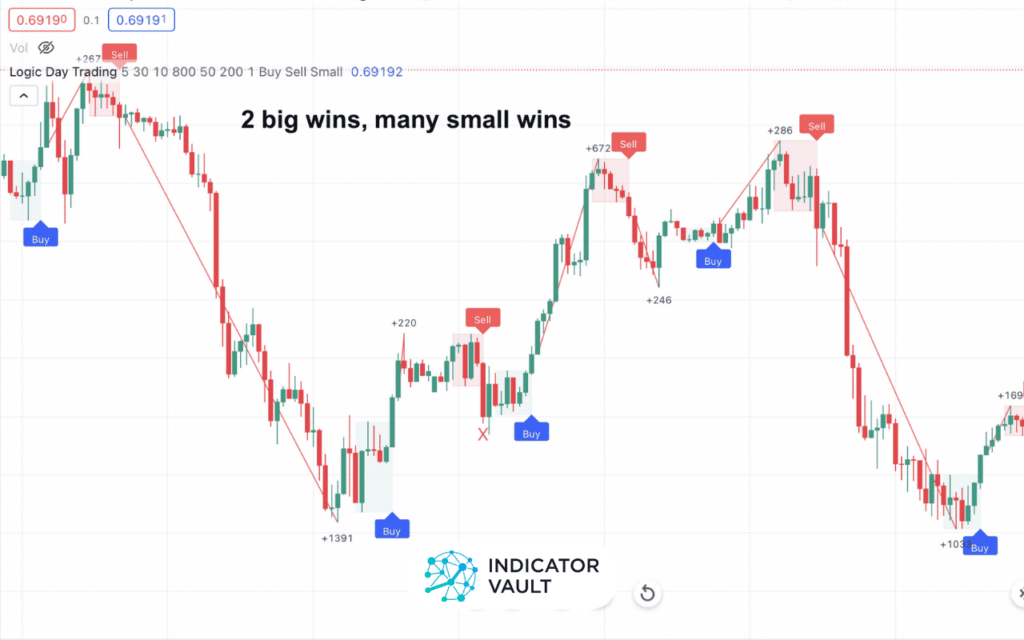 Some of its powerful features that I believe you will be convinced:
It detects high-probability trade setups based on price action only.

It reacts extremely quickly to changes in market conditions, so you can capture the best trade opportunities.

It gives you timely alerts based on breakouts and consolidation zones.
Learn more about the product and view some examples right here: Logic Day Trading indicator for TradingView.
3. Final thoughts
Finally, I'd want to emphasize that you don't have to use all of them; instead, pick a handful that will help you make better trading decisions. Before you start off, make sure you understand how trading indicators work and how they can help you gain day trading success.
Hopefully, you will be able to create a high-quality toolkit as a result of this article.
If you're looking for some knowledge-trading articles or an update on our newest indicators, you can find them here:
Feel free to leave a comment and share your thoughts with me. And don't forget to share this blog with your friends on social media!