Bull Bear Flag for TradingView
$199.00
📌 Accurate pattern detection
📌 High-probability entries
📌 Reduce False Breakouts with Additional Confirmations
No more indecision when facing a trend continuation, catch highly profitable entries of breakout instead
Dear Trader,
I want you to picture this:
You wake up in the morning and pull up your TradingView chart to see that EURUSD has shot up to a major resistance level and is moving sideways aimlessly.
Will it reverse or will it run?
You fiddle with indicators. In one instance, your interpretation says it will run. But, then, you look at it another way, and it seems as if it will reverse.
You're undecided.
This is where the BULL BEAR FLAG indicator for TradingView solves your problem.
It Spots The Bull/Bear Flag Patterns And Identifies High-Probability Trade Setups For Breakout And Trend Trading​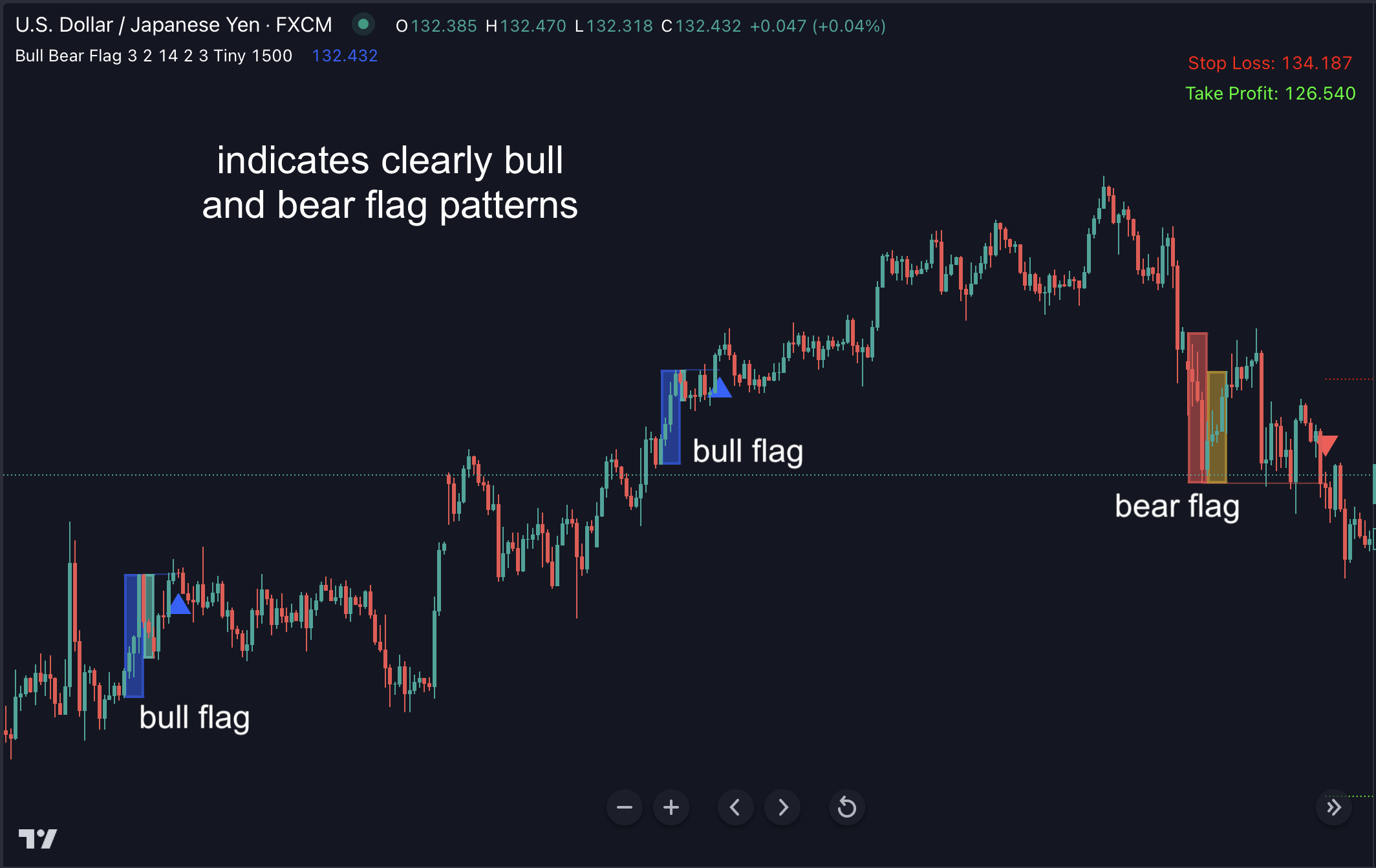 If you look at the graphic above, you can quickly see the beautifully drawn Bull flags in blue/green colors, and Bear flags in red/yellow colors. It's never been easier to identify the patterns on your charts.
You can easily tell whether the market will go UP or DOWN, right?
Good
Now, based on the detected patterns, the indicator will spot when breakouts are about to occur to give you precise entries with suggested SL/TP levels.
Let's have a look at this introduction below to see how great this indicator is in action.
The Bull Bear Flag Pattern Tells You Exactly Where You May Enter A Breakout Or Trend-Following Trade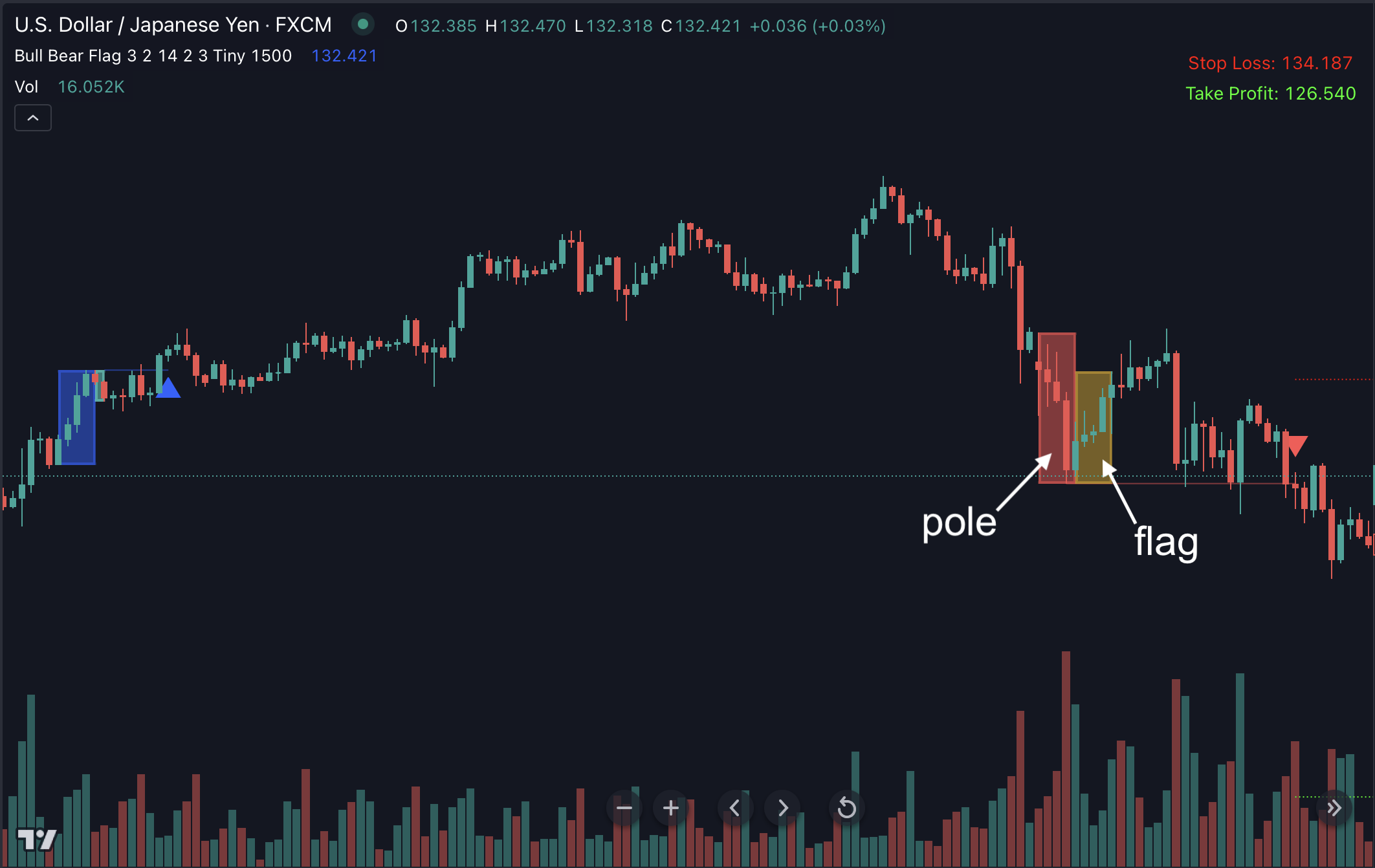 One glace at the bull bear flag and you'll immediately KNOW when to enter a breakout or trend trade. Here's how it works:
The pattern consists of 2 components; The flag and the pole.
The flag represents a pause in the current trend. It indicates a potential breakout point and where the price is likely to resume its initial trend direction.
The length of the flagpole is frequently used to forecast price movement following a breakout from the flag pattern. It means that you can use the measurement to determine profit targets for your trades.
Here's How You Can Use The Bull Bear Flag Pattern To Identify Great Entries:​
But first, let me tell you how to use our Bull/Bear Flag patterns to identify great entries.
It's very simple.
You wait for the price to break past the upper/lower boundary of the flag pattern on increased volume, suggesting the potential continuation of the current trend.
When the breakout occurs, you enter a long (buy)/short (sell) position.
You can just simply add our Bull Bear Flag indicator on your chart, and get yourself close to an automated trading strategy.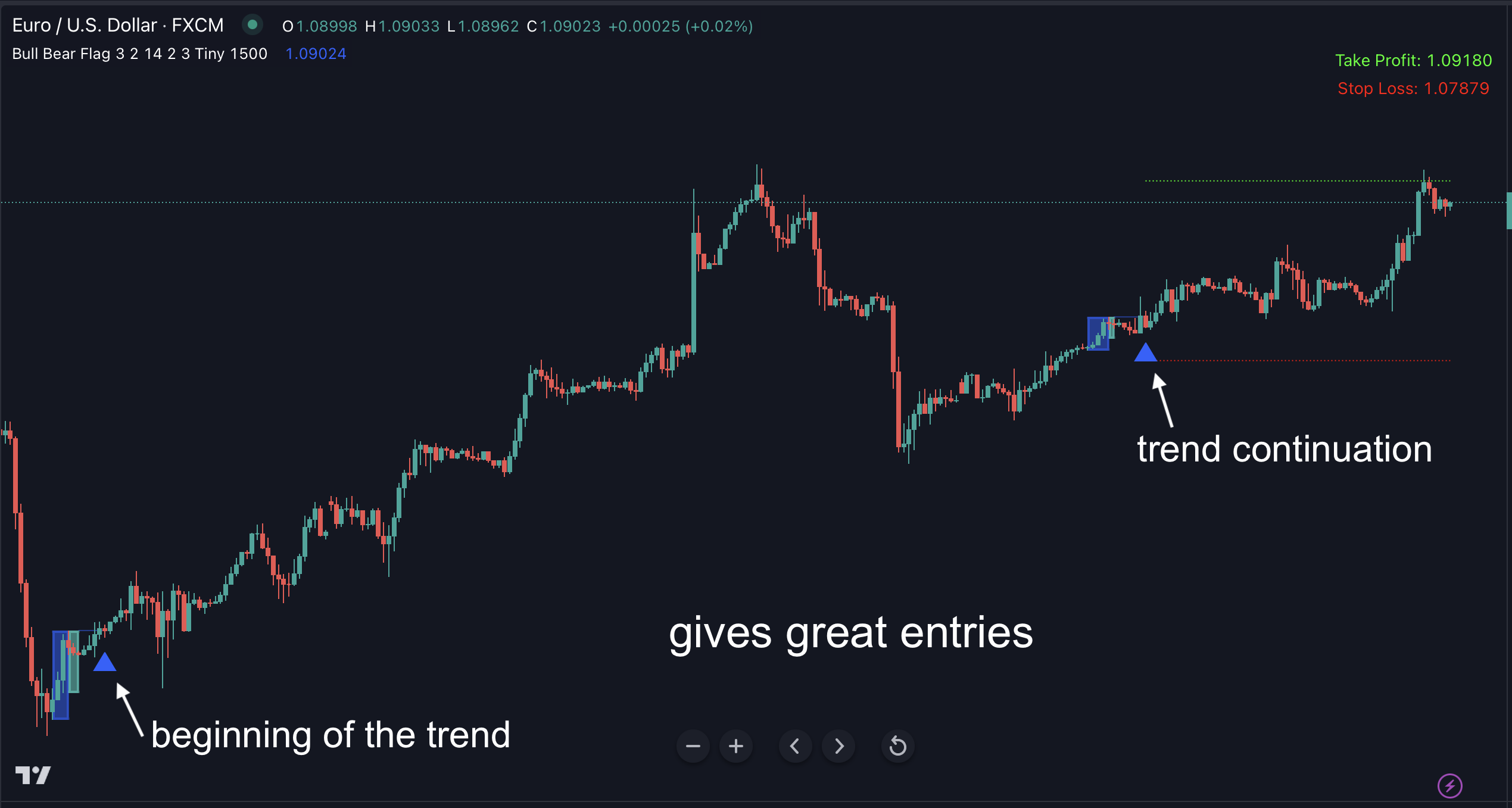 As close as it gets to a COMPLETE, AUTOMATED trading solution
Here's the thing: You see, everyone knows that bull bear flag patterns work great, but the fact is, there's not a lot of traders that use this amazing pattern in their trading everyday.
Here's why: it takes a long of time to spot and mark out a pattern with the naked eye.
And we never know if we've detected the correct pattern.
With the Bull Bear Flag indicator, everything becomes very easy. It does almost all the heavy lifting for you: Automatically detect flag patterns, predict breakouts, and give you great entries.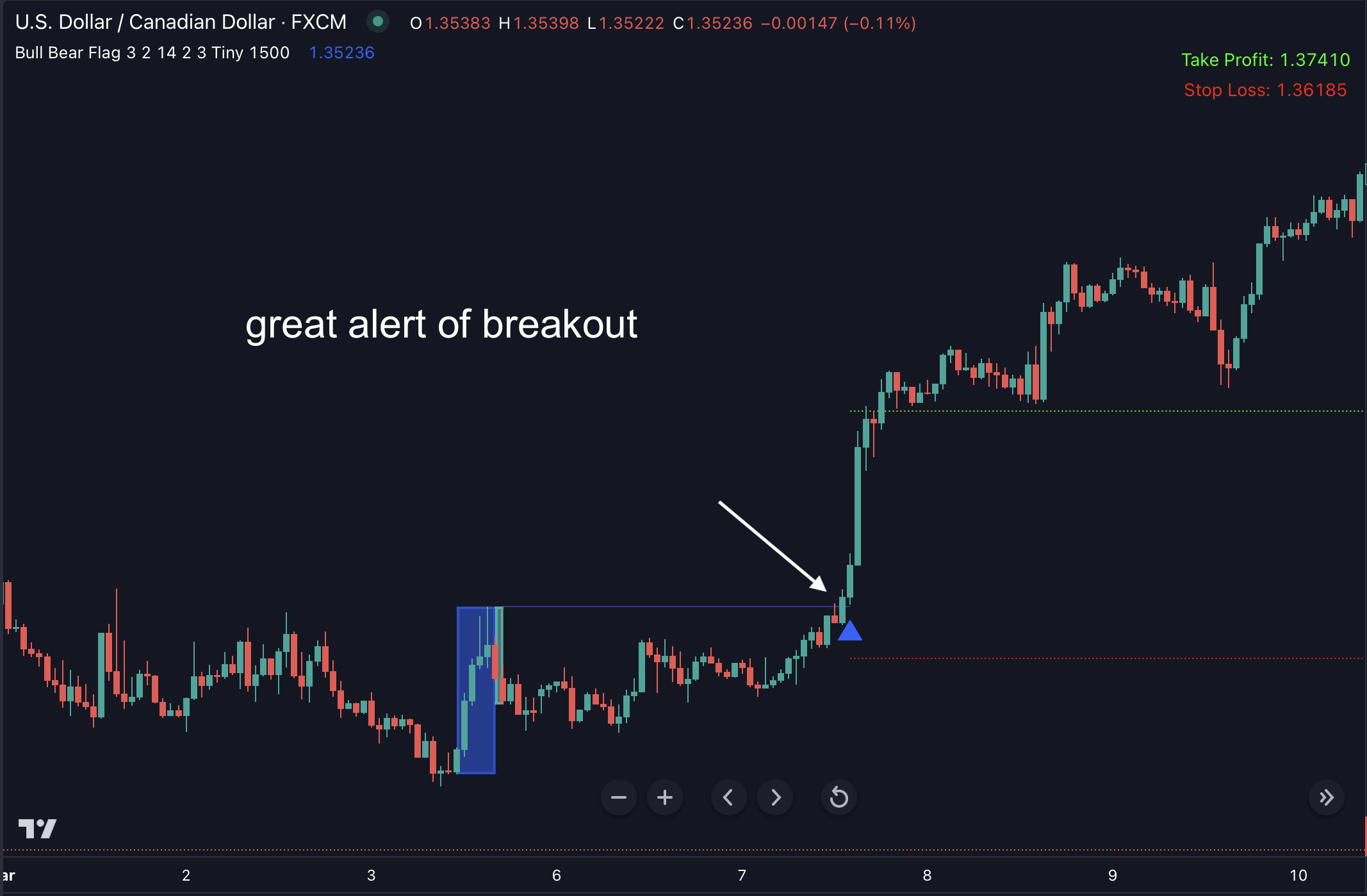 So You Can Enter Winning Trades At The Right Time.
There are 4 important aspects that make this Bull Bear Flag indicator so powerful. Let's dive into them one by one…
Rarity and uniqueness: There are very few indicators on the market that help to detect bull flag and bear flag patterns. And the way they work is nowhere near advanced. This indicator boosts the accuracy in spotting high-probability trade setups , by looking for additional technical confirmation signals….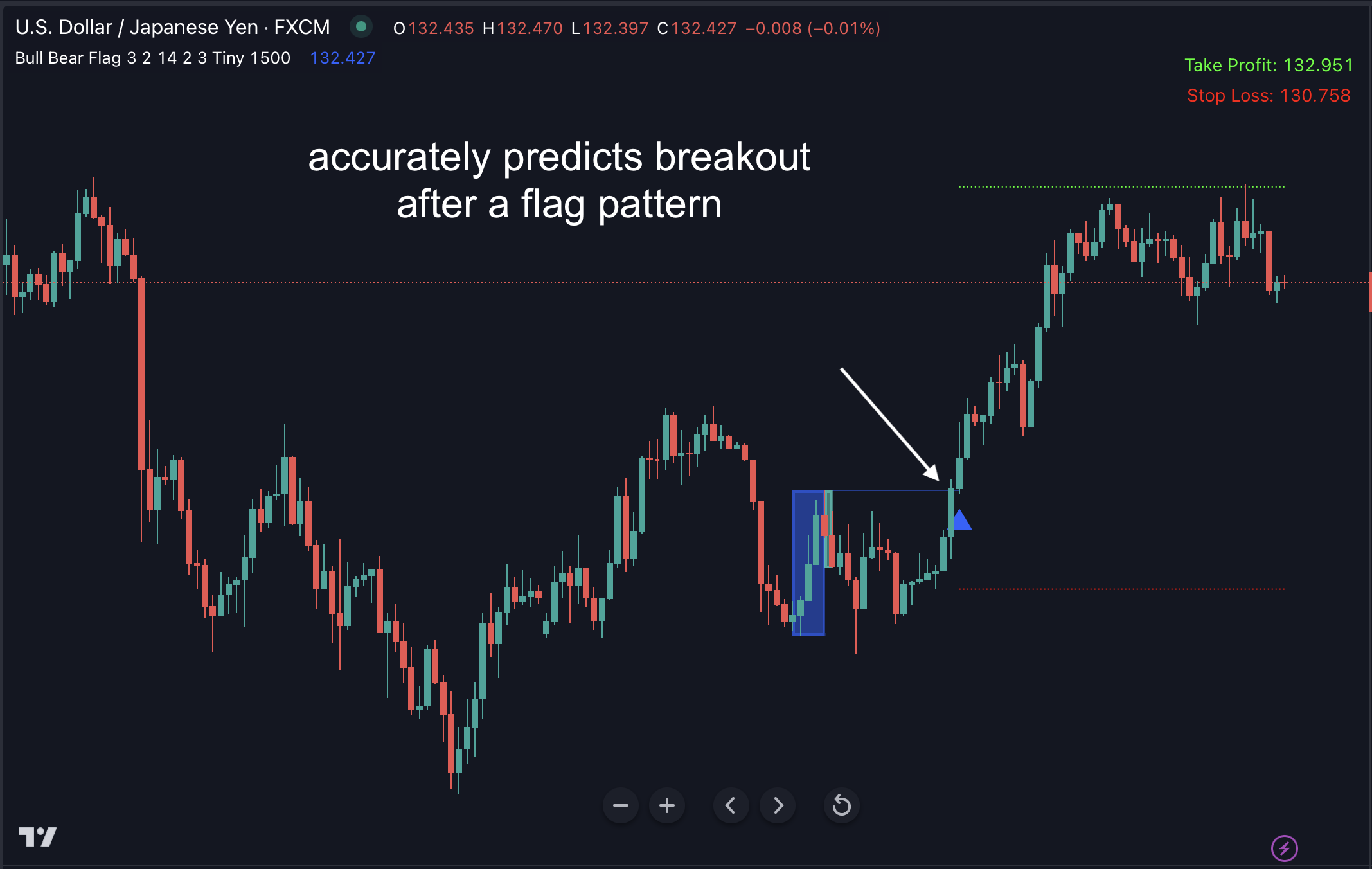 Additional confirmation signals: The indicator validates a Bull/Bear Flag pattern if the price has increased volume during the period the flagpole is formed. This additional confirmation signal helps minimize the occurrence of false breakouts.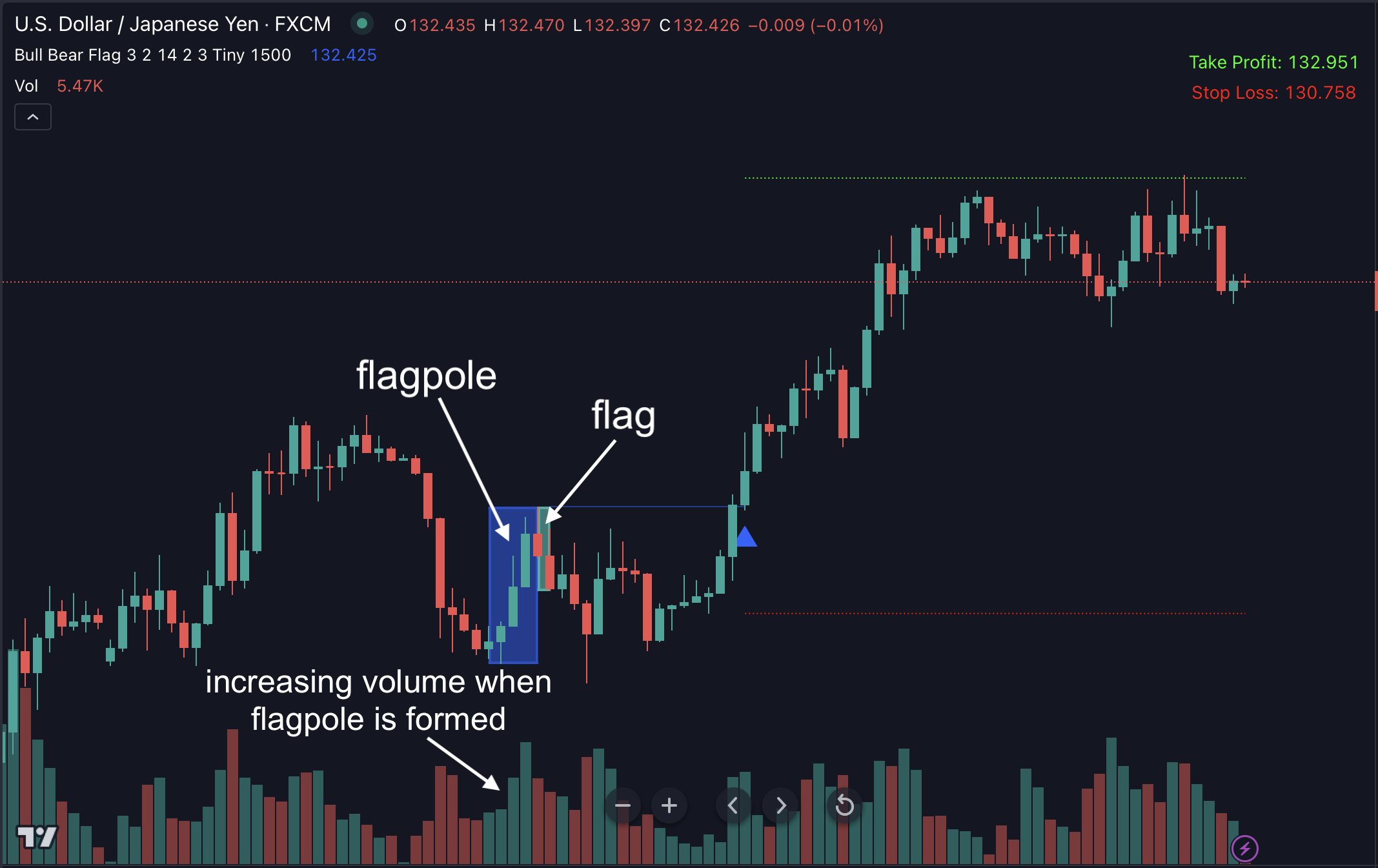 Visual pattern detection: The beautifully drawn rectangles in blue/green colors for Bull flag pattern, and red/yellow colors for Bear flag pattern make it easy to identify the patterns on your charts.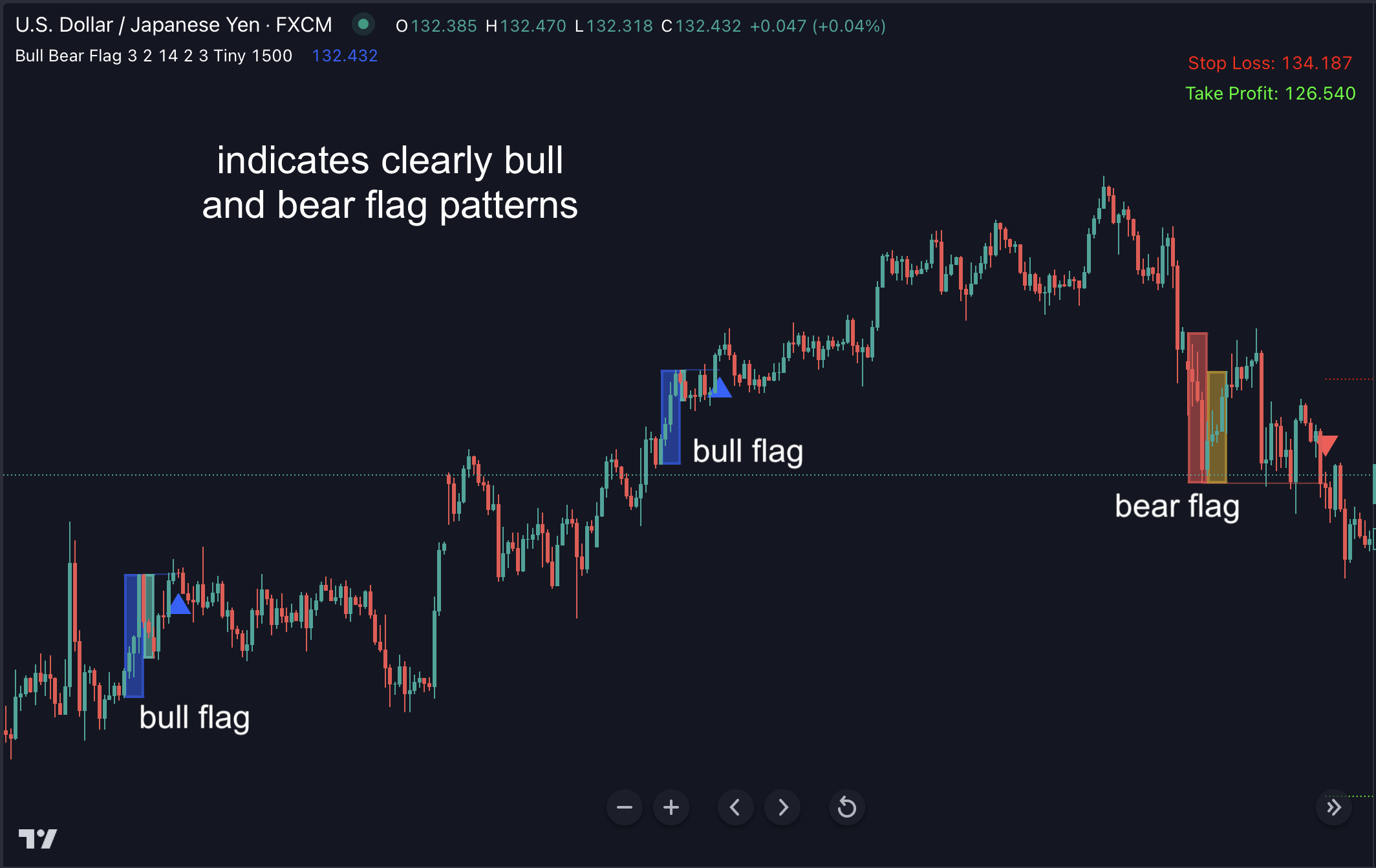 High-probability Entries: Based on the detected patterns, the indicator can spot when breakouts are about to occur to give you precise entries. You'll also get suggested SL/TP levels.