Market Structure Pro for MT4
$199.00
✅ Detects significant breaks in market structure.
✅ Identifies the last bullish order block before the most recent lower low.
✅ INSTANTLY Alerts You When The Current Market Structure Is Broken… And Price's Poised To Make a Major Move Up or Down
What exactly is this indicator?
Market Structure Pro detects significant breaks in market structure.
Once the current market structure is broken, there's a high probability that a major reversal will occur.
Here's exactly how it works:
In a downtrend, Market Structure Pro identifies the last bullish order block before the most recent lower low. It then draws a rectangle around that order block.
As new bars form, the rectangle is extended. When the price finally breaks this rectangle, the current market structure is considered broken. And the indicator prints an arrow on your charts. Plus all other forms of alerts (pop-up, visual, audio, emails, etc…).
And of course, the same principles also apply for uptrend & bullish markets.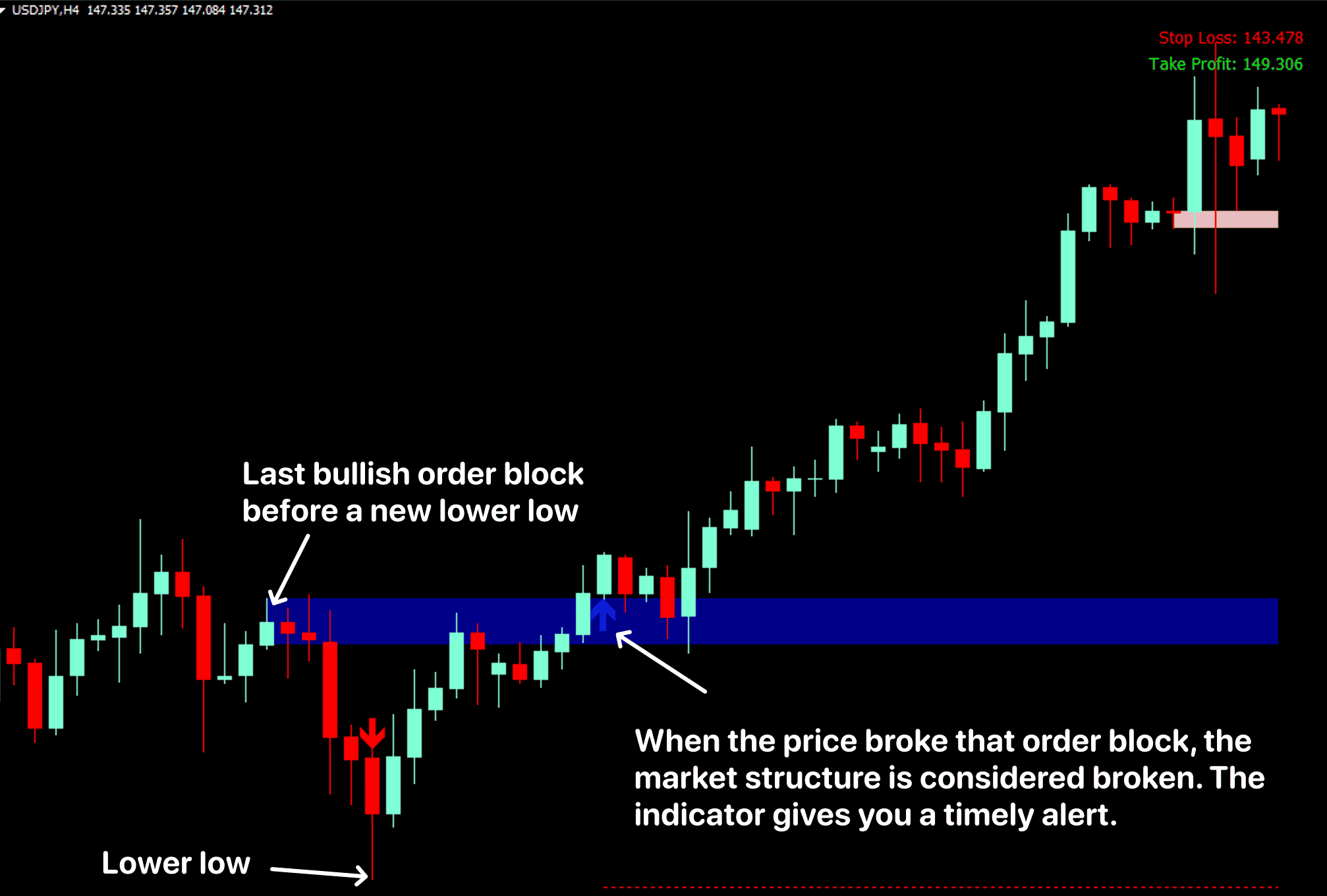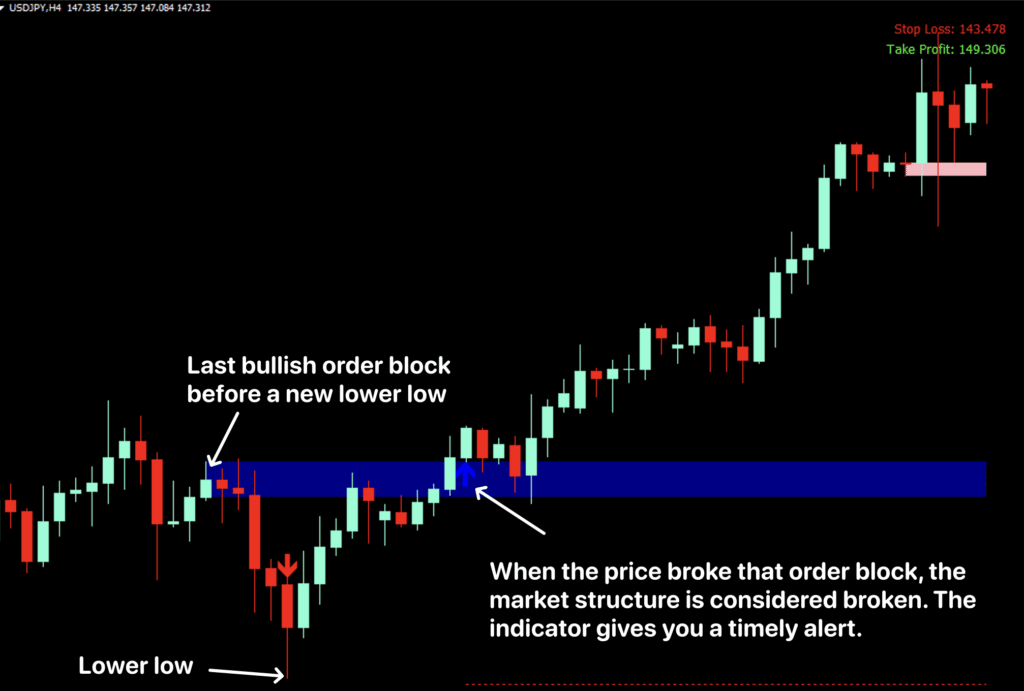 Market Structure Pro is my favorite way to identify breaks in market structure, hands-down.
Combine this fascinating technology & multi-timeframe analysis, and you'll have a proven way to identify trend reversals across all markets.
Watch this short clip to see this amazing indicator in action:
Pay attention to the above video, and you'll quickly realize why I believe Market Structure Pro is such a game-changer:
In this particular video, first off, Market Structure Pro draws a light-blue rectangle around a potential market reversal zone.
As new data comes in, the indicator extends that rectangle until a market reversal occurs. At this point, the color of the rectangle turns into dark blue. And an arrow is printed on the chart to let you know that the market structure has been broken.
And there's a high probability that a new trend or major pullback has been established.
It gives you an EASY way to visualize market structure breaks & potential trend reversals.
But that's not all. Not even close…
Once a market structure break is identified, Market Structure Pro for MT4 indicator will also show you a suggestion on place your stop loss and take profit.
In other words, it gives you EVERYTHING on a silver platter: High-probability trade entry, stop loss, take profit…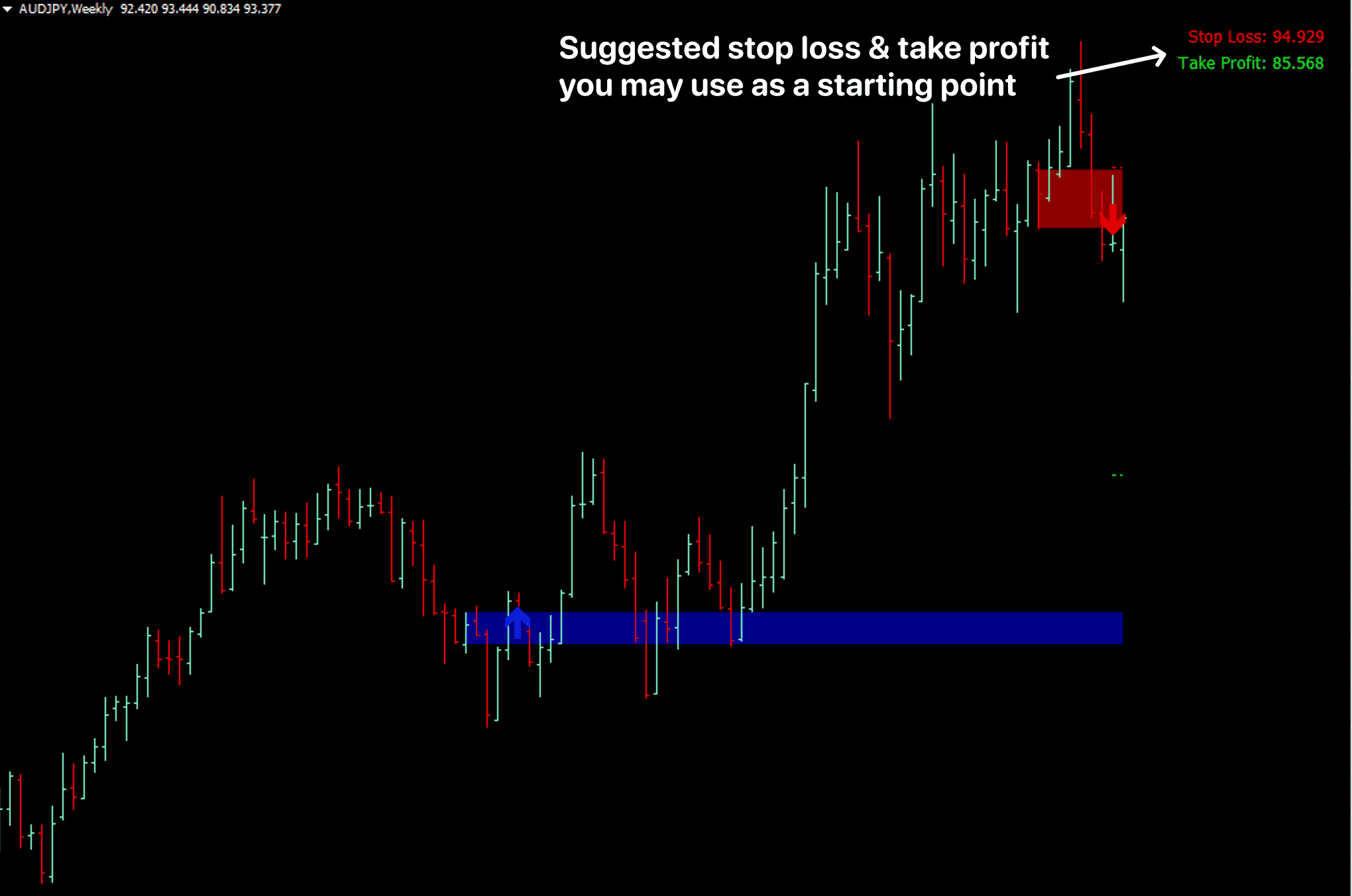 But maybe the best part of all is…
Market structure break is a UNIVERSAL concept…
It works in ALL markets across ALL timeframes.
And many professionals consider market structure break as THE standard method for trading reversals.
For example, let's analyze a few market structure breaks  on the pair AUD/USD: